Words of Creation: Book 10 of Painting the Mists by Patrick Laplante
Author:Patrick Laplante [Laplante, Patrick] , Date: May 6, 2021 ,Views: 7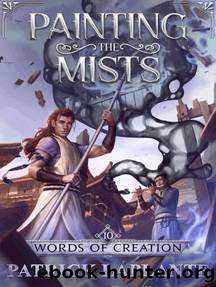 Author:Patrick Laplante [Laplante, Patrick]
Language: eng
Format: epub
Tags: Fiction, Fantasy, Epic
ISBN: 9781989578155
Google: RxsizgEACAAJ
Publisher: Patrick G. LaPlante
Published: 2021-01-05T18:30:00+00:00



Chapter 19: The Great Equalizer
Gentle chimes sounded as Cha Ming and Silver Fish entered the Greenwind Pavilion. relaxing their tense bodies and lowering their defenses. The music lingered in the air, massaging their ears, letting them know that anything they wanted to buy or know was available for purchase. As this was his first time in a Greenwind Pavilion on a transcendent plane, Cha Ming wasn't sure what to expect. He suspended his beliefs the moment he entered.
The décor inside the pavilion was awe inspiring. Not because of its ostentatious statues and ornate desks and attendants, but because of the complete lack thereof. The place was large and mostly empty. Its walls were decorated with paintings and frescoes and metal ornaments and gildings. But the floor… it was barren. All save thick green tiles inscribed with mysterious gray patterns.
All around him, people walked. Humans and demons and Brightmark Kingdom natives, easily recognizable by their long black hair. Their skin was pale and their eyes slanted. As far as Cha Ming knew, they were part of the predominantly Asian culture in this transcendent realm. But he also noted Slovana cultivators, whose hair was a lighter shade, usually brown and sometimes blond. Their eyes were rounder and their features harder.
There were black-skinned Makaka body cultivators and shamans. There were angels and devils. There were more kinds of demons than Cha Ming cared to remember. Virtually any type of cultivator he could imagine flickered in and out of existence. They traveled between cracks in space, flickering between this first floor and heavens knew how many others the building contained. For every dozen people that walked out, just as many walked in.
Now to find an attendant… Cha Ming thought, looking around. As he did, a light wind picked up and brushed past him. There was a light laughing sound, and a wispy green being of pure wind appeared, beckoning him forward.
He followed her, and as he did, he observed the floor. The gray lines that decorated the jade tiles glowed and distorted space as he walked. Silver Fish was still at the entrance—he had neither the funds nor the interest to look around. This made things easier for Cha Ming, who might need to disclose more information than was healthy for him.
Flicker. Cha Ming walked past a small group of men participating in a private auction.
Flicker. He appeared beside a surprised group of dancers, who smiled shyly and waved him along.
Flicker. He came face-to-face with a white-eyed man who bared his teeth in animosity.
Flicker. Cha Ming escaped the man's glare and found himself stepping off a single teleportation platform into what seemed to be an observatory. There was no ceiling in the room, and despite it being day outside, stars shone in the sky like it was a moonless, cloudless night. Every realm's shared moon was nowhere to be seen.
A lone man stood at the center of the room. He was old and white-haired, though he held himself straight. He wore green-and-silver robes, and his aura was restrained.
Download


Copyright Disclaimer:
This site does not store any files on its server. We only index and link to content provided by other sites. Please contact the content providers to delete copyright contents if any and email us, we'll remove relevant links or contents immediately.