What You See: Sons of the Survivalist: 3 by Cherise Sinclair
Author:Cherise Sinclair , Date: April 10, 2021 ,Views: 35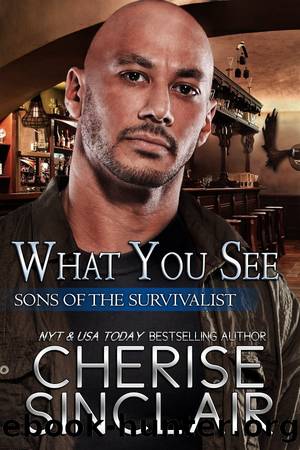 Author:Cherise Sinclair
Language: eng
Format: epub
Publisher: VanScoy Publishing Group



* * *
In the kitchen a while later, Bull was pleasantly full, having topped off the excellent meal with a helping of tiramisu.
The Italian theme night was going to be a success at the roadhouse.
"She's an interesting woman," Caz said.
Bull put another plate into the large dishwasher. It was good they'd overruled Mako and installed it when the building was constructed. "Frankie, you mean?"
"Sí." After handing Bull more plates, Caz glanced toward the giant U-shaped sectional where the women were. "I was tempted to let JJ dig for the story of what brought her to Alaska."
So was Bull. He closed the dishwasher door and started the cycle. "She's allowed her secrets, bro."
Caz grinned. "I'm surprised you don't know everything already."
"I'm not the old man." As their leader, Gabe had been labeled the "old man" before they even reached their teens—and the cop went after secrets like a hound on a blood trail. "I don't need to know everything."
"Maybe you do. You want her for your roadhouse, which might mean helping with whatever's bothering her from her past. You're a fixer, 'mano." Caz poured himself a glass of iced tea.
Bull frowned. He did want Frankie for the roadhouse…and for himself. "You might have a point."
Hearing Frankie's open laughter, Bull smiled. She had a hell of a laugh. "By the way, bro. Do you happen to know what orso-key-AH-toe means?"
Caz chuckled. "Bear is oso in Spanish, and I think it's orso in Italian. I'm guessing she called you a teddy bear."
"Did she now?" His heart lightened. Teddy bears were cuddled and cried on if someone needed comforting. "I can work with that."
With Caz beside him, Bull leaned on the island to watch the group.
Everyone was on the comfortable, massive sectional. Mako'd set up the downstairs figuring on bringing them all together. An oversized flat-screen TV for movies and sports. A spacious kitchen with an equally big pantry. A gym with a fancy weight room. The sarge had known them well.
There were times Bull wondered what the paranoid survivalist would have thought of Audrey and JJ…and Frankie. Of the sweet sound of women's voices in his house.
You missed a lot, Sarge.
On one end of the sectional, as far away from the women as possible, Hawk had his violin and was teaching Regan. With her violin tucked beneath her chin, the girl was growing frustrated.
The song—"The Impossible Dream"—was older. It'd been one of Mako's favorite songs, one he'd played when he was feeling melancholy—a soldier's song, he'd called it.
Had Regan even heard it before? Hawk sure wouldn't sing the tune for her, not with his ruined voice. Bull shrugged. It wasn't as if they lacked people to demonstrate the tune. He raised his voice. "Take it from the top, Hawk."
Hawk shot him a glare for interrupting, then one of his rare smiles as he caught on. He raised his violin. "You heard him, girl. Lead off with me."
The two violins started the intro. Bull felt like a proud father. Regan was getting damned good. "Go, Caz.
Download


Copyright Disclaimer:
This site does not store any files on its server. We only index and link to content provided by other sites. Please contact the content providers to delete copyright contents if any and email us, we'll remove relevant links or contents immediately.