Wedding Vows & Murder by Beth Byers
Author:Beth Byers [Byers, Beth] , Date: June 12, 2019 ,Views: 82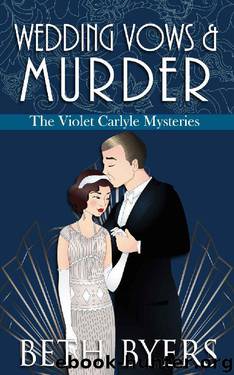 Author:Beth Byers [Byers, Beth]
Language: eng
Format: epub
Published: 2019-05-05T05:00:00+00:00



Chapter Twelve
"Where's your father?" the earl asked Jack, once Violet finally looked away.
"He's buying the press, I believe," Jack admitted, flushing. "Leading them to report on the kind of man Theo was rather than on the suspect at hand. He says he doubts it'll work for long."
Violet's father nodded, and to her utter shock Father stood and his hand snaked out to pull her against his chest. "Someone killed Theo. We'll find the man."
Violet stood stiffly in her father's arms for a moment before she relaxed and hugged him back before escaping to Jack.
The earl excused himself a few minutes later, muttering, "Wakefield isn't the only man with connections to flex."
"What are you doing, Father?" Violet asked.
"Never you mind," he said. "These are the types of things you don't admit to doing."
Violet pressed herself against Jack the moment her father left. She was shuddering, holding on to all of her emotions, which were in a cyclone, and she didn't have time for it.
"Are you all right, my love? That was intense, and he isn't even my father."
Violet nodded a lie and then pulled away. Time to focus on other things. She could have sleepless nights wondering if her father really had adored her mother. If he really had let her and Victor go because of love rather than the lack of it. To wonder if he'd watched her from afar, loving her the entire time, and somehow forgetting to help her see.
Violet physically shook off her thoughts, pressed a kiss on Jack's jaw, and then crossed to the chalkboards where Lila was muttering instructions and flipping through the pages of notes from the interviews the police had conducted the day before.
"What have you done?" Violet asked, gesturing to the board where Lila and Beatrice were making notes and Kate was reading through the stack of what they had uncovered so far.
"While your father did the expected and then the very unexpected?" Denny asked, almost bouncing on his toes. "That moment was a….it was a thing of beauty. Better than any play. I was reeling, darling one. Simply reeling. When we weren't knocked sideways? We were—ah—darting glances at one another, biting our tongues, dying to speak, manfully holding back exclamations of shock and awe."
Violet rubbed her forehead, wondering why she liked Denny as much as she did. "With the names, of course, you nitwit."
"These ones that are crossed out," Lila answered, elbowing her husband aside, "they're the names of people that I'm certain didn't kill Theo."
"How certain?"
"Very," Lila said clearly.
Violet waited, gesturing for Lila to explain. There could be no mistakes.
Lila nodded, understanding. "They really do have good alibis. For example, Helen Nathans, who was absolutely chasing Paul Lansing the entire evening. They both claimed to be together in their separate interviews with the police." Lila flipped to the notes that Beatrice had transcribed the night before. "Helen would have very definitely noticed if Paul had left even for a few moments. He alibied her as well, but he might not have noticed if she disappeared.
Download


Copyright Disclaimer:
This site does not store any files on its server. We only index and link to content provided by other sites. Please contact the content providers to delete copyright contents if any and email us, we'll remove relevant links or contents immediately.