WMC 02 - 2nd Chance by James Patterson
Author:James Patterson [PATTERSON, JAMES] , Date: August 4, 2021 ,Views: 32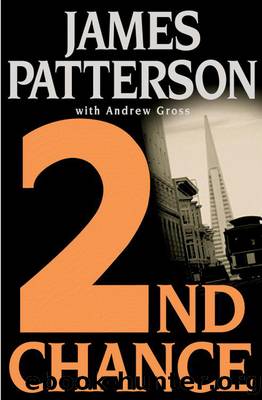 Author:James Patterson [PATTERSON, JAMES]
Language: eng
Format: epub
Publisher: Hachette Book Group USA
Published: 0101-01-01T00:00:00+00:00



Chapter 60
I STEPPED INTO THE STARK WHITE CELL. It was completely empty except for a metal table and four chairs, all bolted to the floor, and two security cameras high up on the walls. In a corner stood a silent, tight-lipped guard holding a stun gun.
Weiscz barely acknowledged me. His legs were fastened and his hands tightly cuffed behind the chair. His eyes had a steely, inhuman quality to them.
"I'm Lieutenant Lindsay Boxer," I said, stopping about five feet from him.
Weiscz said nothing, only tilted his eyes toward me. Narrow, almost phosphorescent slits.
"I need to talk to you about some murders that have taken place. I can't promise you much. I'm hoping you'll hear me out. Maybe help."
"Blow me," he spat with a hoarse voice.
The guard took a step toward him, and Weiscz stiffened as if he'd taken a jolt from the taser. I put up my hand to hold him back.
"You may know something about them," I continued, a chill shooting down my spine. "I just want to know if they make sense to you. These killings . . ."
Weiscz looked at me curiously, probably trying to size up if there was something he could get from this. "Who's dead?"
"Four people. Two cops. One was my chief of police. A widow and an eleven-year-old girl. All black."
An amused smile settled over Weiscz's face. "In case you haven't noticed, lady, my alibi's airtight."
"I'm hoping you may know something about them, then."
"Why me?"
From my jacket pocket, I took out the same two chimera photos I had shown Estes and held them in front of his face. "The killer's been leaving these behind. I believe you know what it means."
Weiscz grinned broadly. "I don't know what you came in here for, but you don't fucking know how that warms my heart."
"The killer's a Chimera, Weiscz. You cooperate, you could gain back some privileges. They can always move you out of this hole."
"Both of us know I'll never get out of this hole."
"There's always something, Weiscz. Everybody wants something."
"There is something," he finally said. "Come closer."
My body stiffened. "I can't. You know that."
"You got a mirror, don't you?"
I nodded. I had a makeup mirror in my purse.
"Shine it on me."
I looked at the guard. His head twitched a firm no.
For the first time, Weiscz looked in my eyes. "Shine it on me. I haven't seen myself in over a year. Even the shower fixtures are dulled here so you can't see a reflection. These bastards just want you to forget who the fuck you were. I want to see."
The guard stepped forward. "You know that's impossible, Weiscz."
"Fuck you, Labont." He glared viciously up at the cameras. "Fuck you, too, Estes." Then he turned back to me. "They didn't send you in here with much to bargain with, did they?"
"They said I could take you out for a Happy Meal," I said with a slight smile.
"Just you and me, huh?"
I glanced at the guard. "And him."
Weiscz's goatee split into a smile. "These bastards, they know how to ruin everything.
Download


Copyright Disclaimer:
This site does not store any files on its server. We only index and link to content provided by other sites. Please contact the content providers to delete copyright contents if any and email us, we'll remove relevant links or contents immediately.