Twelve Days in May by Larry Dane Brimner
Author:Larry Dane Brimner , Date: September 17, 2020 ,Views: 14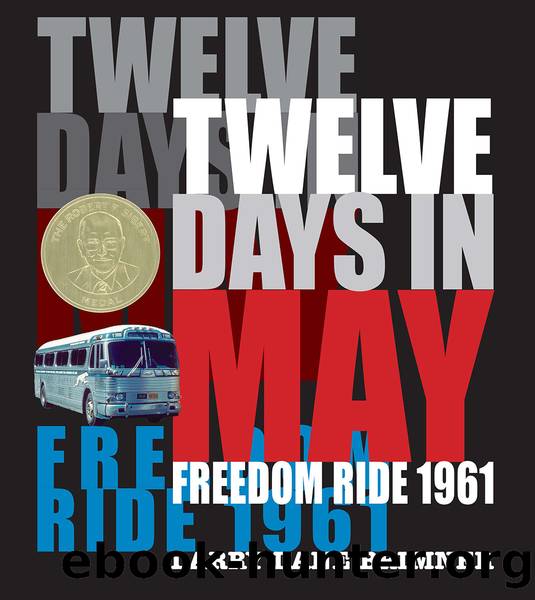 Author:Larry Dane Brimner
Language: eng
Format: epub
Publisher: Boyds Mills Press
Published: 2017-09-15T00:00:00+00:00



A former sports broadcaster, Eugene "Bull" Connor was first elected to public office in the 1930s and quickly gained a reputation as an outspoken opponent of integration. Supported by and an advocate of the Ku Klux Klan, he brought worldwide condemnation upon Birmingham in 1963 when he used police dogs and fire hoses against young civil rights protesters.
At 4:15 p.m., the Trailways bus rolls into the terminal. The Klansmen on the bus have done their job—enforcing Jim Crow. They run to the front, screaming a few parting taunts at the Freedom Riders before rushing out the door.
The riders collect their luggage, and James Peck and Charles Person walk toward the white-only waiting room to begin their test of the station's facilities. "I did not want to put Person in a position of being forced to proceed," writes Peck, "if he thought the situation too dangerous. When I looked at him, he responded by saying simply, 'Let's go.'"
Moments later, the two men approach the white-only lunch counter. A Klansman blocks their path and comments about the cuts on Peck's face and his blood-splattered shirt. He screams that Person should die for attacking a white man. Peck explains that Person isn't the man who attacked him. Peck says, "You'll have to kill me before you hurt him." The waiting Klansmen become more enraged. Whites do not defend blacks, no matter how innocent they may be. One Klansman physically shoves Person, saying, "The Negro waiting room is back that way." When Person steadies himself and continues to the white-only lunch counter, another segregationist shouts, "Hit him." The Klansmen begin to attack Person with their fists and feet. Peck rushes to Person's aid, but he, too, is assaulted. The two riders are pushed into a narrow passageway where more whites wait with metal pipes, and these Klansmen pounce on the men. Somehow Person breaks free. He runs into the street, boards a city bus, and finds his way to Fred Shuttlesworth's house. Peck, however, bears the brunt of the Klan attack. When it is finally over, he slumps to the floor, unconscious and lying in a pool of blood. He is found by an injured Walter Bergman. Looking like war casualties, the two eventually convince a black taxi driver to take them to Shuttlesworth's home. Here, they meet up with the other riders.
In the terminal scuffle, Ike Reynolds, who joined the ride in Sumter, South Carolina, and a couple of innocent black bystanders also are beaten and stomped on by a gang of whites. Reynolds's semiconscious body is heaved into a curbside trash bin before he and the bystanders are rescued by CBS Evening News reporter Howard K. Smith. Smith is in town to film a television report titled "Who Speaks for Birmingham?" The three injured blacks agree to be interviewed by Smith at Smith's motel room, but the eyewitness interview is not broadcast to CBS's national audience on the Sunday's Evening News. The local television director tells Smith he can't get a signal, but Smith suspects the problem has more to do with the station owner's support of Jim Crow.
Download


Copyright Disclaimer:
This site does not store any files on its server. We only index and link to content provided by other sites. Please contact the content providers to delete copyright contents if any and email us, we'll remove relevant links or contents immediately.