Troublemaker: Surviving Hollywood & Scientology by Leah Remini
Author:Leah Remini [Leah Remini] , Date: August 2, 2020 ,Views: 17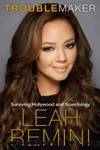 Author:Leah Remini [Leah Remini]
Language: eng
Format: epub
ISBN: 9781101886960
Amazon: 110188696X
Publisher: Ballantine Books
Published: 2015-11-03T00:00:00+00:00



Chapter Twelve
AS A CELEBRITY SCIENTOLOGIST, you are expected to be an example not only to the outside world but also to other Scientologists. Moving up the Bridge is important in setting an example for the group. And so is donating money. A lot of money. I donated millions of dollars over my life to my church to help set an example.
The church is relentless when it comes to fundraising and soliciting. The plea is always a variation on the same refrain: "You're a celebrity. You've got to step up, because if you do it, people who are not contributing will start to. So you need to do this to save the planet."
I felt a combination of coercion and responsibility. When I heard from the church the causes my money was being put toward, I believed them. They ranged from protecting religious freedom to helping workers who were at Ground Zero after 9/11 through the New York Rescue Workers Detoxification Project. In 2002, the NY Detox, as it's known, began offering free treatments to firefighters, first responders, and police officers. Based on LRH's writings, the detoxification regimen flushed poisons out of the body by employing an intense combination of multiple hours in and out of the sauna, high doses of niacin, jogging, and other elements. I donated over $100,000 to sponsor these first responders and fundraised on the cause's behalf for additional donations.
As my donations grew, however, so did my questions about where my money was actually going. In the wake of Hurricane Katrina in August 2005, I gave $50,000 for a special mission of Scientology Volunteer Ministers to take food, water, and supplies to the hurricane victims in New Orleans, an effort spearheaded by Kirstie Alley. When I asked to see some kind of evidence that actual supplies were handed out, however, I was given the runaround. Even though I knew church officials thought I was a pain in the ass because I complained all the time, I said, "Give me a picture of somebody from Scientology Volunteer Ministers handing out a fucking bottle of water in New Orleans, not a booklet about our beliefs."
"Why are you always questioning your church's intention?" asked my "handler," Shane Woodruff. (Shane had become my unofficial liaison with the church once I reached celebrity status.)
"Because I see Volunteer Ministers, with their yellow shirts on, handing out Way to Happiness booklets, as opposed to the water that you told me you were going to give them," I said to Shane.
I wondered if we were helping anyone other than fellow Scientologists or just giving off an appearance of this for all the world to see. Were we actually helping the world at large in the way I had been told? Those questions gnawed at me all the time, but particularly when I agreed to help open the Inglewood Org in the neighborhood southwest of downtown L.A. I agreed to donate $100,000 to get the basic books needed for the org to be considered a church, but I had my own set of stipulations that I made very clear.
Download


Copyright Disclaimer:
This site does not store any files on its server. We only index and link to content provided by other sites. Please contact the content providers to delete copyright contents if any and email us, we'll remove relevant links or contents immediately.