To Dance Once More (Hope of the South Book 1) by Sherri Wilson Johnson
Author:Sherri Wilson Johnson [Johnson, Sherri Wilson] , Date: October 19, 2020 ,Views: 6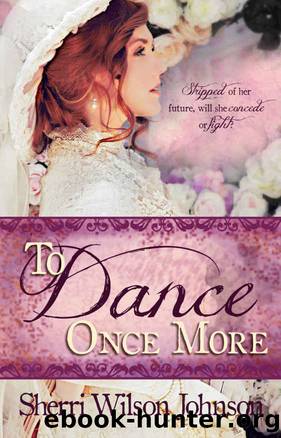 Author:Sherri Wilson Johnson [Johnson, Sherri Wilson]
Language: eng
Format: epub
Published: 2014-12-12T05:00:00+00:00



Chapter 12
Two days passed like a mid-afternoon summer rainstorm, and before the Barrington girls knew it, they had arrived at Pensacola Bay. Their time of basking in the sun, breathing sea breezes, and adapting to endless swaying now rested in the valise of their minds. Lydia and Alexa let out heavy sighs to finally be on dry land, for even though they had enjoyed themselves aboard the Lady Lavinia, two days at sea proved to be enough for them.
"Thank you, Captain Pratt, for seeing us safely to Pensacola." Lydia curtsied.
"My pleasure, young lady. Both of you were a delight to have on board." He tipped his cap.
Just then, Van Edward Nesbitt appeared on deck, waving his hands back and forth in the air. "Miss Lydia, wait."
Lydia turned toward Van. He looked like a penguin waddling across the deck. She grinned at her new friend, the two such an unlikely pair.
"Miss Lydia, I wanted to give you a little memento before you left."
"Oh, that's so sweet. What is it?"
"It ain't much." He reached into his jacket pocket. "It's a conch shell I found in Barbados. I thought you might like to keep it. If you put your ear to it, you can hear the sea. Maybe it'll even remind you of your old pal, Van."
The shell was the biggest one Lydia had ever seen. It was pink and white, and black spikes bordered the opening. "Oh, Van. Thank you so very much. I'll keep this forever." Lydia hugged him. His bristly beard smelled of sweat and salty air, but she didn't mind. She'd remember this moment forever.
Van turned away with the swiftness of an acrobat. Was that a tear coming from his eye? "Good-bye, Van," she called as he waved.
"Lydia, I'm always amazed at your way with people. Who would've thought you'd make friends with an old sailing man?" Alexa nudged Lydia.
"I can't help it. He just took to me." She laughed.
The girls walked down the ramp, waving good-bye to their escorts. With their sea legs still in control, the girls had to adjust to walking on solid ground.
Their aunt, uncle, and three little ones waited for them on the wharf.
"Oh, Alexa, Lydia, look at you two. You've both grown up so much, and you're both so lovely!" Rebecca reached out her arms to them.
"Thank you, Aunt Rebecca," Lydia said, Alexa echoing. She gasped at the size of the city behind Rebecca's shoulder and how everyone bustled about, each with somewhere important to go. "Look how much more glamorous people are here than in Harrison."
"Oh, Lydia, people at home equally impress visitors too. You're just used to seeing them, so they don't thrill you anymore," Rebecca assured.
They loaded up in a cabriolet carriage, black with gold striping and ivory scrollwork, which took them several miles away from the city to the home of Nicholas and Rebecca. A terracotta-colored Victorian, their home boasted of gingerbread trim and red-brown colored doors and shutters. Oak and willow trees lined the path and wrapped all the way around the house.
Download


Copyright Disclaimer:
This site does not store any files on its server. We only index and link to content provided by other sites. Please contact the content providers to delete copyright contents if any and email us, we'll remove relevant links or contents immediately.