Their Mate's Redemption [Midnight, New Orleans Style 5] (Siren Publishing Ménage Everlasting) by Marla Monroe
Author:Marla Monroe , Date: January 14, 2021 ,Views: 34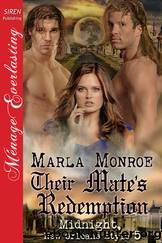 Author:Marla Monroe
Language: eng
Format: epub
Tags: Romance
Published: 2014-10-21T16:00:00+00:00



Chapter Nine
One minute she was stepping into the shower with a very naked Beau, trying not to scratch him with her claws, and the next she was gasping with Beau holding her against his chest telling her to relax and breathe.
"W–what just happened?" she asked then noticed she had her hands back.
"You started hyperventilating when your hands morphed back to normal again. How do you feel now?" Beau asked her.
"Okay, I think. I don't remember it. Did it take very long? Was I hurting?" She had no idea why she hadn't known what was going on. She'd kind of known when it had originally happened, and she hadn't freaked out over it at the time either.
"It only took a few seconds, and you didn't seem to be in any pain, but it must have felt odd because you started having trouble catching your breath. Are you sure you feel okay?" Beau seemed to be a little shaken up, as well.
"I'm fine now. Sorry. I shouldn't have freaked out. I sure hope that doesn't happen again." Something deep inside of her warned that it would.
She looked down at her hands and shook them experimentally to see if they felt any different, but nothing felt odd or weird. Shrugging, she smiled up at Beau.
"Looks like I can shower on my own now if you want to get out and do something else."
"Hell no. I like what I'm doing just fine, boo. It pleases me to bathe you and make sure you don fall in the shower. Gaston would declaw me if I let you get hurt. Non, Shayla. I'm happy where I am." Beau's wide grin set her heart leaping once again. His smile was not only engaging but also addictive. She wanted to bask in the warmth of it.
She slapped at his hands when he lost sight of bathing her to tease and torment her instead. His hands found every ticklish spot she had and every erogenous zone she didn't know she had. It didn't take long for the shower to turn into something more as Beau sucked and nipped at her nipples while his fingers did wicked things to her pussy and clit. Soon her moans echoed in the overly large shower as her arousal blossomed into a full-fledged inferno, just waiting for the right touch to send her exploding into climax.
"You taste like a glass of wine on a hot day, boo. You go to my head just as quick. I want to watch you come for me. Let it go, beb. Fly for me." Beau's heated, gruff words combined with the slight pinch to her clit drew a scream from her even as she went up on tiptoes with the explosion of her orgasm.
It seemed to go on forever, and at the same time, it was over too soon. She collapsed against Beau's broad chest with a contented sigh. If it weren't for him holding her up, she'd have slid right to the floor. Even now, her butt cheeks ached from squeezing so tightly when she came.
Download


Copyright Disclaimer:
This site does not store any files on its server. We only index and link to content provided by other sites. Please contact the content providers to delete copyright contents if any and email us, we'll remove relevant links or contents immediately.