The Wrong Time by Voss Porter
Author:Voss Porter [Porter, Voss] , Date: January 14, 2021 ,Views: 20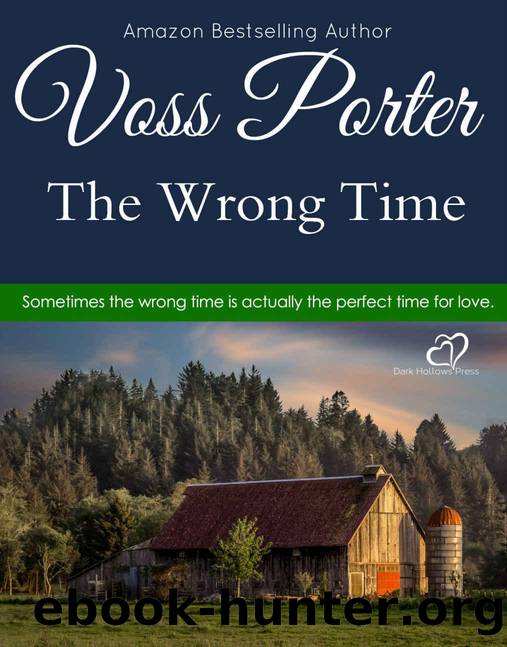 Author:Voss Porter [Porter, Voss]
Language: eng
Format: epub
Tags: FF, Fiction, Glbt, lesbian, romance
ISBN: 9781944054724
Publisher: Dark Hollows Press, LLC
Published: 2016-07-12T21:00:00+00:00



Mallory
Well, I've been sitting here for ages, wondering if you were telling the truth. Mallory let her eyes wander, hungrily, over Lorraina's beautifully toned body, Lorraina's well-worn, taupe body; the color of her skin was all the more illuminated by the russet color of her shirt, the curve of her rear was all the more accentuated by the tight hug of her jeans. As she stared, unwavering, as she drank in the sight of the woman that she was so enamored of, she lost all of the beautifully connected words that she had meant to say. She lost all of the thoughts, all of the emphasis, all of the promises. She lost every single ounce of self-control. Her thoughts became a jumble of predatory need and violent hunger. Her desire was red and raw.
"Lorraina, I need you." She was even surprised at the huskiness of her own voice. "There is so much I want to say, but right now… I need you."
"I know," Raina spoke softly. "I feel it, too."
Mal's hand shot out again, for the second time in so many hours, and latched on to Lorraina's wrist. "I can… I need to you tell you… I need to say so many things."
"There's time for that later," Raina cut her off, with force. "Let's go back to my house." Thanks for not bringing up mine.
No food, no drinks, no conversation, and that was all Mallory needed to hear. Her heart stopped in her chest, and a fire took hold inside, spurring her forward.
She barely made it to her car.
No, she left her car there.
She barely made it to Raina's truck.
Why am I leaving my car here? I have work in the morning. She shook her head to clear her mind. I'm leaving my car here because I want to fuck this woman, and I am incapable of operating a motor vehicle at this point. I'm the female equivalent of rock hard. Every part of me is in agony, every part of me yearns for her touch. I literally cannot process a thought pattern more complicated than that.
Also, who cares about work at a time like this?
Finally, she had Lorraina Greer open and receptive (mmm… open…) and finally she could tell Lorraina all of the things she should have said in the beginning. Sure, she had a partner that died, and that was hard. On the best of days, that was hard. But their relationship had not been roses and rainbows and perfection. Their relationship had been exactly like every other human relationship, filled with compromise and pain. Sure, she was still in the closet, but that did not mean she couldn't spend her time with Lorraina. That only meant she didn't want to break up her family, hurt her parents, split up their Easter dinners. That did not mean she couldn't commit to Lorraina, as they had been committed before.
Was I committed to Lorraina before?
Do I want to commit to Lorraina now?
Can I commit to Lorraina?
Will Lorraina have me?
Committing to anyone had not really ever occurred to her.
Download


Copyright Disclaimer:
This site does not store any files on its server. We only index and link to content provided by other sites. Please contact the content providers to delete copyright contents if any and email us, we'll remove relevant links or contents immediately.