The Trouble with Twins by Michelle Major
Author:Michelle Major , Date: October 29, 2022 ,Views: 75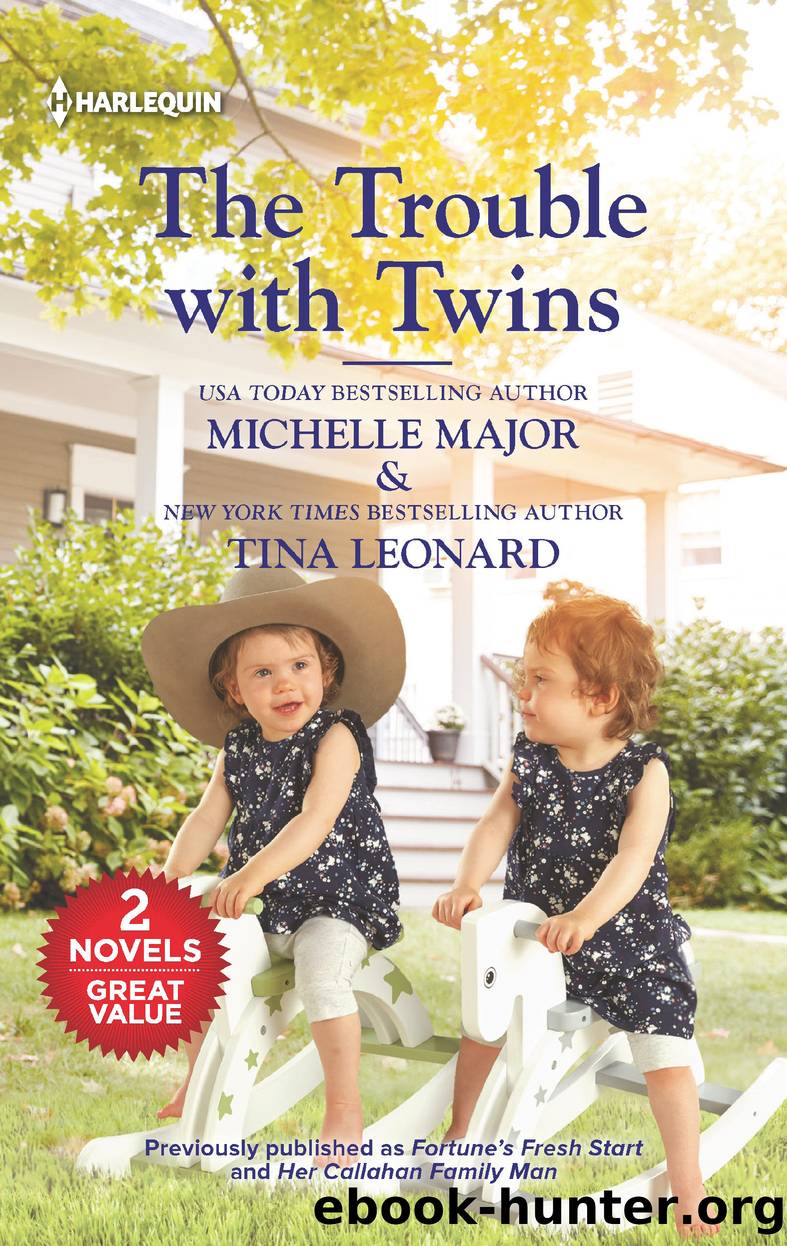 Author:Michelle Major
Language: eng
Format: epub
Publisher: Harlequin
Published: 2021-06-20T22:20:47+00:00



Chapter 2
"It does trouble me that you felt like you had to win me to have this conversation," Jace told Sawyer an hour later, as he sped toward Las Vegas. "I'm flattered you spent several months of your Rancho Diablo salary keeping me from another woman, but I would have withdrawn myself from Aunt Fiona's bachelor raffle if I'd known I was a father."
He looked over at Sawyer, noting that the spicy redhead looked as if she wanted to give him a piece of her mind, and probably would in a moment. He remembered the first time he'd ever laid eyes on her. Galen and he had played backup to Dante when he went over to see Storm Cash, and Sawyer had opened the door instead of her uncle, catching all of them off guard. Jace had seen a big smile, a slender, athletic body, cute freckles across a tiny nose, big blue eyes twinkling at him, and felt himself fall into deep, fiery lust—lust so strong that every time he saw her, he wanted her.
Of course, he'd known better. There were some lines one could cross, but sleeping with the enemy was a mistake only a man with his mind anywhere but on his job would make. But then she'd been hired on at Rancho Diablo by his brother Sloan and Sloan's wife, Kendall—and suddenly the red-hot neighbor sex-bomb was in Jace's sights like a tornado he couldn't avoid.
It hadn't taken him long to respond to the magnet pulling him toward Sawyer—only to discover that she seemed to feel the same desire. They'd made love as often as possible, as discreetly as possible, keeping their affair completely locked away. Sawyer didn't want to jeopardize her job, knowing that she still had to earn Callahan trust—and Jace hadn't wanted his family harping on his lack of loyalty.
His family was in for a big shock, but right now, he had to make certain his little firecracker mama got to the altar.
One thing about the Callahans: they were deadly serious about their ladies once they found them. But rare was the Callahan bride who'd made her way to the altar quietly.
He intended to avoid that unnecessary heartburn.
"I did not," Sawyer said with annoyance, "want you to withdraw from Fiona's event. You'd been advertised on barn roofs and billboards for months as Diablo's prize of the century. It wouldn't have been right to tell you at Christmas that you were going to be a father, and make you withdraw. That would have devastated Fiona, taken all the fun out of the Christmas ball and denied the charities that she funds much needed revenue, which comes from the purses of women who are hoping to win the dream man lottery."
Jace perked up at the idea that Sawyer might think he was a dream man, suddenly hopeful that shoehorning her into marrying him would be simpler than it had first seemed. She didn't appear all that anxious to say I do.
Unaware of his hopeful state,
Download


Copyright Disclaimer:
This site does not store any files on its server. We only index and link to content provided by other sites. Please contact the content providers to delete copyright contents if any and email us, we'll remove relevant links or contents immediately.