The Sound of the Harvest: Music's Mission in Church and Culture by J. Nathan Corbitt
Author:J. Nathan Corbitt [J. Nathan Corbitt] , Date: July 1, 2020 ,Views: 187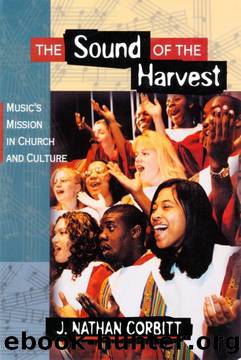 Author:J. Nathan Corbitt [J. Nathan Corbitt]
Language: eng
Format: epub
Published: 2010-12-28T12:08:00+00:00



Quantitative and Qualitative Analysis
We first start with a sample. In a quantitative sample you collect songs from a geographical area or an existing collection of music. You then categorize the major themes (King, 1989). This is fairly easily done with a hymnal because it has both index and a table of contents. Major theological and doctrinal concerns are already categorized. However, in oral cultures one must collect songs from the places where they are most used by a majority of the population.
A qualitative analysis discovers the meaning of specific words and concepts. For example, in a quantitative sample we may discover that a church places great emphasis on the kingdom of God. But what does the kingdom of God actually mean to that congregation? It is only through a qualitative analysis that we can actually know what that means.
Part of this analysis also has to do with the frequency of performance (King, 1989, p. 296). The space given to a song is not merely its presence in a hymnal but also how frequently it is sung. Many congregations have hundreds of hymns printed in the hymnal, but favor only a select few. Likewise, popular radio stations have what they call Top Ten songs, which they play frequently. In addition to the space given to salient songs, we find that within the song collection there are certain words and phrases that take prominence. Noting these is a good place to start in understanding basic concepts about worldview and theology.
Here is a classic example of music theological analysis. Shortly after World War II there arose a prophet named Silas Eto from the Methodist Church Mission in the Western Solomon Islands of Melanesia. Within a short time over three thousand people left the Methodist faith to follow Silas Eto in what many called "Etoism." Silas Eto was an interesting character. He had been tutored in the Methodist faith by a peculiar missionary woman, who reportedly prayed under her house hanging upside down like a bat. It is doubtful that Eto prayed like a bat, but he seemed as resistant to authority as his mentor, and his own grandfather had been a magic-man. Local people seemed to fear and respect him. In one case he put a taboo on the selling of coconuts. When one man ignored the taboo, his child later died, thus reinforcing the fear and instilling respect for his "spiritual" powers (Tippett, 1967).
As a missiologist, A. R. Tippett was interested in church growth. He wanted to know both the theology of Etoism and what might have precipitated this new schismatic religious movement. While there are a number of sociological, economic, political, and missi- ological causes, music played an important role. In a comparative analysis, Tippett sought to find out what music Etoists were singing, and then compared this oral theology to the theological index of the Methodist hymns in use on the island. By making both a quantitative and qualitative analysis of the hymns he was able to reach several conclusions, which I will briefly describe.
Download


Copyright Disclaimer:
This site does not store any files on its server. We only index and link to content provided by other sites. Please contact the content providers to delete copyright contents if any and email us, we'll remove relevant links or contents immediately.