The Rancher, the Baby & the Nanny by Sara Orwig
Author:Sara Orwig , Date: January 20, 2023 ,Views: 53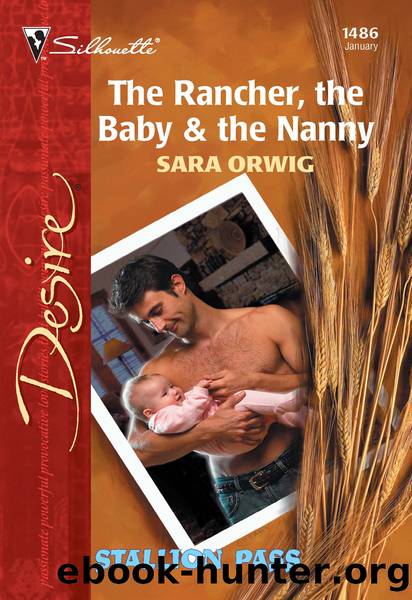 Author:Sara Orwig
Language: eng
Format: epub
Publisher: Silhouette
Published: 2003-01-15T00:00:00+00:00



Ten o'clock the next morning Grace received a phone call from Wyatt, who was at his office in San Antonio.
"Are you melting?" he asked.
"Actually, we're doing fine. I gave Mrs. Perkins the day off. I hope you don't mind."
"I'm glad you did. It's too hot for her to cook. The earliest I can get someone out there to look at the air conditioner is eleven this morning."
"I'm amazed you've managed that," Grace replied.
"It took bribery, but the guy is a friend of Gabe's and he's coming. I think we'll need a new unit, so it probably means another hot night."
"We'll manage."
"I'm getting the house here aired out and then cooled down. I'll come get you two for dinner and we'll stay here in town tonight. I can't get to the ranch until around four."
"We're doing great. When she had her bath, I let Megan play in the water this morning for a long time and then we went outside where there's a breeze. The crib is still outside in the shade. I'll be careful and see that she doesn't get too hot."
"Sure. The house in town has a pool. Bring your swimsuit."
"Thanks, Mr. Sawyer," Grace replied dryly, trying to remind him of their employer-nanny relationship. "I believe I promised I wouldn't wear anything like a swimsuit around you."
"That was before the air-conditioning broke down. I won't pay any attention to you and even if I do, you won't let it do me any good. Bring your suit and enjoy yourself. Think you can take the heat until four?"
"Yes, Wyatt. Tonight you and Megan should go to your place and I can stay—"
"See you at four. I have to run. We can talk when I see you," he said, and broke the connection.
Glaring at the phone, she replaced the receiver. Her pulse skittered at the thought of eating dinner with him and spending the evening with him.
To her surprise, Wyatt was home by half-past three. From the moment he entered the house, she was acutely aware of him. After showering, he changed to a blue, short-sleeved shirt, jeans and his snakeskin boots. He looked incredibly handsome, and she again reminded herself to keep things impersonal and cool between them.
Grace had dressed in one of her plain jumpers and white, short-sleeved blouses, and she had Megan in a pink sundress.
As they drove to town, he talked about his day at work again, about the air conditioner and listened to her tell him every detail about Megan. They ate a long, leisurely dinner in a casual restaurant on the River Walk, and Megan seemed to enjoy the outing as much as the adults. Grace fed her bites from a jar of baby carrots, orange soon dotting the bib tied around Megan's neck.
"It's a small world, Grace," Wyatt said, standing and dropping his napkin in his chair.
A couple approached, and a smiling, slightly graying man shook Wyatt's hand. An attractive, older blond woman, dripping with jewelry, gave Wyatt a frosty smile and Grace a cold stare.
Download


Copyright Disclaimer:
This site does not store any files on its server. We only index and link to content provided by other sites. Please contact the content providers to delete copyright contents if any and email us, we'll remove relevant links or contents immediately.