The New Atkins for a New You: The Ultimate Diet for Shedding Weight and Feeling Great by Eric C. Westman & Stephen D. Phinney & Dr. Jeff S. Volek
Author:Eric C. Westman & Stephen D. Phinney & Dr. Jeff S. Volek [Volek, Dr. Jeff S.] , Date: October 18, 2020 ,Views: 15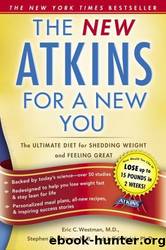 Author:Eric C. Westman & Stephen D. Phinney & Dr. Jeff S. Volek [Volek, Dr. Jeff S.]
Format: epub
Tags: Cooking, Health & Fitness, Medical, Nutrition, Health, Diet, Fitness, Diets, Recipes, Weight Loss, Health & Healing, Physiology, Healthy Living, Low Carbohydrate, Diets - Weight Loss, Diets - General, Reducing diets, Low-carbohydrate diet, Diet Therapy
ISBN: 9781439190272
Publisher: Simon and Schuster
Published: 2010-08-15T07:00:00+00:00



For those of you who began Atkins in Induction or Ongoing Weight Loss (OWL), the end is in sight. (Of course, you know that "the end" is really only the beginning of your new lifestyle.) If your goal was to slim down, it's within your grasp. If you were determined to lower your blood pressure and your blood sugar and insulin levels or improve your cholesterol and triglyceride levels, your indicators should show marked improvement. Just for fun, flip back through some of the entries in your diet journal to remind yourself of how far you've come in the last several months (or weeks, if your objectives were small). Your achievements are the result of keeping your eye on the big picture, feeding your body in a way that minimizes temptation, and not letting minor setbacks derail you.
Let's put one issue to rest. Many people don't understand why Atkins is made up of four phases instead of three. Once you reach your goal, you're done, right? Wrong! Difficult as losing weight is, it pales in comparison to the challenge of maintaining your healthy new weight. Almost anyone can stick with any diet for weeks—or even months. But permanently changing your way of eating is much more difficult. That's why Phase 3, Pre-Maintenance, and Phase 4, Lifetime Maintenance, are distinct. In Phase 3, you'll attain your goal weight and then make sure that you can stay right there for a month. (Some people remain in Ongoing Weight Loss, or OWL, until they reach their goal weight, as discussed in the last chapter.) This dress rehearsal prepares you for the real show, the rest of your life in Lifetime Maintenance. Regard Pre-Maintenance as the beginning of your transition to a permanent and sustainable way of eating.
Whether the Carbohydrate Level for Losing (CLL) that you found in OWL is 30 or 80 grams of Net Carbs, you've obviously hit upon a mix of nutrients that works for you, at least for weight loss. Give yourself a round of applause as you begin to whittle away those last few pounds and inches and normalize your health indicators. Check out the Phase 3 meal plans in part III to get an idea of how you're likely to be eating in Phase 3, in which many of you will have the opportunity to test the waters with the remaining carbohydrate food groups. These include fruits other than berries, starchy vegetables, and whole grains. Which is not to say that you have to eat these foods or even that you can eat them.
You'll explore your tolerances for foods higher on the carb ladder as you increase your overall carb intake (generally in 10-gram increments) until you reach and maintain your goal weight for a month. Although this seems like a relatively small goal, particularly if you've already trimmed a substantial amount of extra weight, the last few pounds and inches are often the most stubborn to let go, particularly if you try to advance your carb intake too quickly.
Download


Copyright Disclaimer:
This site does not store any files on its server. We only index and link to content provided by other sites. Please contact the content providers to delete copyright contents if any and email us, we'll remove relevant links or contents immediately.