The Love Slave for Two Collection (Siren Publishing Ménage Everlasting) by Tymber Dalton
Author:Tymber Dalton , Date: November 22, 2020 ,Views: 22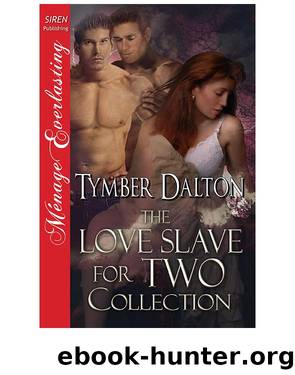 Author:Tymber Dalton
Language: eng
Format: epub
Tags: Romance
Published: 2015-03-01T16:00:00+00:00



* * * *
Tyler spoke to Tommy's doctors, his own doctor, and called Bob's cell. Fortunately Nevvie was on the phone with Eddie when Tyler called Bob.
"Don't tell her you're coming. I need to see you right now."
"Déjà vu all over again," Bob quipped.
"Don't make jokes. It hurts too much to laugh."
"Sorry. I'll be there in a few minutes."
Tyler still sat at Thomas' bedside when Bob arrived.
"Close the doors and curtains, please," he asked.
Bob did, giving them more privacy.
"How is she? Really?"
Bob shook his head. "Again with the déjà vu. Didn't I have this conversation with her a few years ago in this same ICU? Do you have an asshole administrator on your case, too?"
Tyler managed a wan smile. "Seriously, how is she holding up?"
He leaned against the wall, on the other side of Thomas' bed. "She's been better. We had a close call when she found out about Tommy."
Tyler knew Bob wasn't telling the full truth but didn't press further. "My poor girl. What would we do without you, Bob?"
"Yeah, you say that now. Wait 'til you get my bill," he teased. "She seems a lot stronger today. I think the shock has worn off. With you awake she was like a new woman when she got back to the house. If one of you had died I think she'd be in a hospital bed, too."
"According to them, I did die."
"Yeah, but you damn paranormal authors are like vampires, just keep coming back."
"Ow! Bob, please. No jokes."
"Sorry." He looked at Thomas. "How is he today?"
"They can't tell us anything. It's wait and see."
"I hate to be the bringer of bad news, but we need to look to the future. That's what you pay me to do."
"If he can't go back to work?"
Bob nodded. "Who runs the business, should you sell it, all of that. He could be back at work in a month, he might be dependent upon the two of you for the rest of his life."
Tyler willed Thomas to open his eyes even though he knew medication kept him in a coma. How was their poor girl supposed to take care of both of them? Tyler knew he was her emotional support, but Thomas was every bit as much a grounding foundation for him as for Nevvie.
How did they manage without him?
"We don't need to decide all that today, do we?"
"No. I just need you to keep it in the back of your mind. Nevvie is in no condition to think about it. I haven't even mentioned it. I've already talked with Kenny and Maggie. For the duration, I'm supervising operations at Kinsey Consulting. Nevvie needs to focus on you guys and Adam."
Download


Copyright Disclaimer:
This site does not store any files on its server. We only index and link to content provided by other sites. Please contact the content providers to delete copyright contents if any and email us, we'll remove relevant links or contents immediately.