The Lone Hunt by L.L. Raand & Radclyffe
Author:L.L. Raand & Radclyffe [Raand, L.L. & Radclyffe] , Date: January 14, 2021 ,Views: 18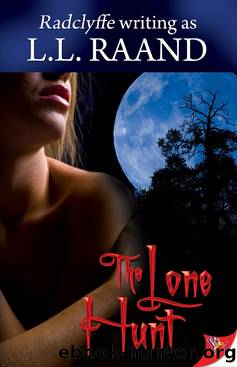 Author:L.L. Raand & Radclyffe [Raand, L.L. & Radclyffe]
Language: eng
Format: epub
Tags: Fiction, romance, lesbian, paranormal, Vampires, Werewolves, Urban Fantasy, erotica, futa, Clit-dick
ISBN: 9781602828995
Google: rZYTBwAAQBAJ
Amazon: B00BWZEHUG
Publisher: Bold Strokes Books
Published: 2013-03-18T23:00:00+00:00



*
The Rover bumped to a stop in the shadow of an overhanging rocky ledge, and the two Vampires in the front got out. A moment later the back doors opened, and Jody stood outlined in moonlight, as silent as a shimmering blade. Raina hissed quietly. Vampire scent was so subtle, so foreign, she often couldn't tell they were near. Good when they were friends, deadly when foe.
"We're only a few hundred yards from the border," Jody said. "The Weres will cross as a group and we will follow."
Lara climbed out and Raina followed with the other two Weres. The Vampire who had been sitting across from her was gone—misted into the darkness faster than her eyes could follow. Her cat growled in displeasure, wanting to be far away from these strange dead-but-not-dead creatures.
"I'll run with the Weres," Lara said, underscoring her place with the Vampires while claiming her separateness. Her Vampire essence might be in service to Jody, but she was apart from the others.
Jody went on as if Lara hadn't spoken, silently acknowledging Lara's plan. "As soon as the cats pick up your scent, Jace and Dasha will head south, drawing at least some of the rebel group away. Hopefully, once Raina's scent is recognized, the dominants will follow her."
Raina's skin prickled, as unsettled as her cat. She'd never run with anyone before. She'd never fought with anyone before. These Vampires and Weres were all soldiers, and they worked like a trained unit. She was the loner in the group, and she wondered if she would die alone this night.
Lara slid her hand onto Raina's neck. "Remember, I can't climb as quickly as you can—at least, not trees. Anywhere else, I can follow."
"You'll be at a disadvantage on the ground. You won't be able to escape a cat. We're larger and faster and stronger."
Lara laughed. "I am a centuri. I have fought every kind of adversary, including some of your cats. I'm still here. They're all dead."
"Your arrogance is going to get you killed, Wolf."
"Don't worry about me, Cat. Just don't try to escape." Lara squeezed Raina's neck, a caress more than a show of strength, the kind of touch Raina had never known.
Raina shivered, but her cat settled. She'd never been so at odds with her cat before—wary when her cat was not, wanting to run from a touch her cat seemed to crave. She would have pulled away from the wolf's hold on her, but some instinct held her in place. "You don't know these mountains, and we'll be moving quickly."
"I carry your essence in my blood," Lara whispered, her breath warm against Raina's throat. "I'll always know where you are. Even if you run."
She'd thought about it—running. Once they were in the forest, on her home territory, she would know every trail, every pass, every hiding place. She could leave the Weres and Vampires far behind. She might have to fight her way to sanctuary in the north, but she would've had to do that anyhow. She had been prepared for bloody battles.
Download


Copyright Disclaimer:
This site does not store any files on its server. We only index and link to content provided by other sites. Please contact the content providers to delete copyright contents if any and email us, we'll remove relevant links or contents immediately.