The Life She Couldn't See (Birds of Paradise Book 3) by ChaShiree M
Author:ChaShiree M. [M., ChaShiree] , Date: October 26, 2019 ,Views: 39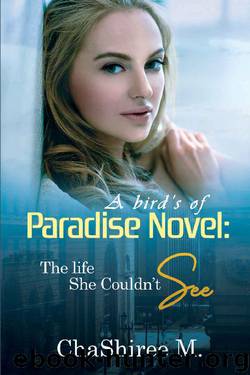 Author:ChaShiree M. [M., ChaShiree]
Language: eng
Format: epub
Publisher: KinkyBoo Publishing
Published: 2019-08-18T16:00:00+00:00



Chapter 16
KEA
Last night was a revelation. I don't know any of my friends, whose boyfriends have ever done the things for them what he did for me. Without complaining one bit. I woke up this morning to him rubbing my back and telling me how much he loved me. After making sure there is no more pain, he carried me into the shower and showed me how much he loved me.
Sitting at my desk, I have a mountain of paperwork because I took off Monday after the trauma with Phoenix. I didn't make a dent in it yesterday. I am supposed to have lunch with my sisters today, but with all the work on my desk and the fact that some of the pain has returned there is no way I can go out right now. I call Fae and let her know. She says ok and she will let the others know. Besides, I need to finish as much as I can so that I can go see Cole today, and my appointment with the SW at four.
The rest of the day goes by as slow as possible. By the time 2:30 rolls around I am anxious about the meeting. There are two reasons. One, I have no idea if I am eligible and two, because I have this nagging voice inside my head telling me Colton should be with me. I didn't want to cancel and have her think I was a flake or something.
I go to the group home to see Cole and spend some time with him. By four, I am walking into the Social Workers office.
"Miss Ryan. Glad you could make it."
"Ms. Gloucester. Thank you for meeting with me."
"No problem. There is no need to be nervous. Today is really an informal meeting. We are simply discussing, the obstacles, and answering any. We will schedule a more formal meeting at the end of this one and I will tell you everything you need to know to be ready."
Phew. That takes the knot out of my stomach.
"So. Kea. May I call you Kea?"
"Of course."
"Kea, what is your end goal as far as Cole is concerned?"
"I would like to adopt him."
"I see. You were the social worker that removed him from his home. Is that correct?"
"Yes ma'am."
"I see you have maintained steady and constant contact with the child. Is that correct?"
"Yes ma'am. There was something about him that called to me the day I took him from his home. He looked at me with so much trust and sadness, I wanted to wrap him up and protect him. I can't describe it really. I know somewhere deep inside me, that he is meant to be my little boy."
She looks at me as I talk, and I can see the softness of her eyes letting me know she knows I am sincere.
"Well. Until the father has lost his rights, which cannot happen unless he becomes incarcerated or by the courts, all you can do is foster him. Would
Download


Copyright Disclaimer:
This site does not store any files on its server. We only index and link to content provided by other sites. Please contact the content providers to delete copyright contents if any and email us, we'll remove relevant links or contents immediately.