The Kiss Curse by Erin Sterling
Author:Erin Sterling , Date: September 22, 2022 ,Views: 50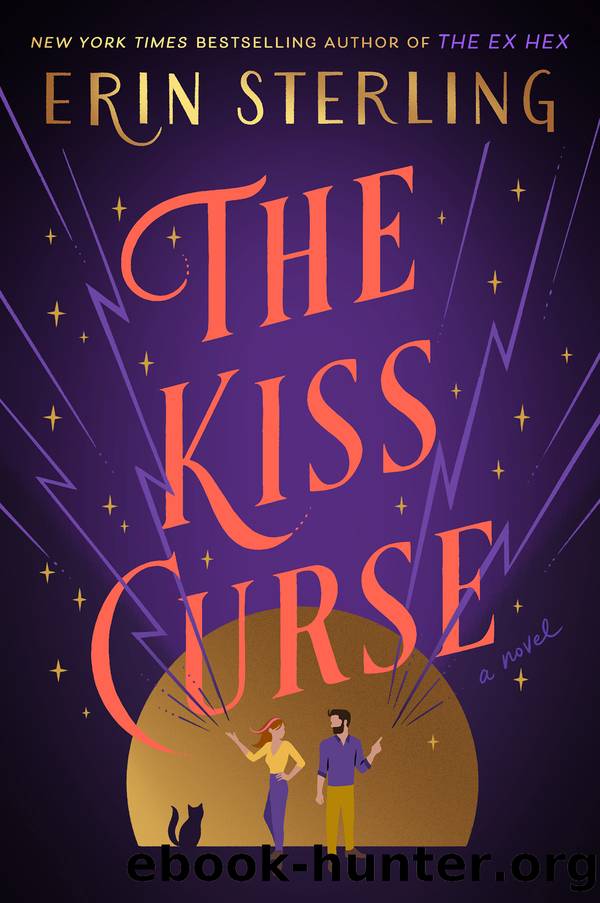 Author:Erin Sterling
Language: eng
Format: epub
Publisher: HarperCollins
Published: 2022-09-20T00:00:00+00:00



Chapter 19
Rhiannon's tits.
Wells had spent the past couple of weeks telling himself that kiss in the cellar had not been as good as he remembered it, that it had rattled him so much simply because he hadn't kissed a woman in ages before that.
But as Gwyn's lips parted underneath his, he understood that such thinking had been deeply, deeply stupid.
No, that kiss had been so bloody devastating because she was so bloody devastating, and he was in very serious trouble now.
Not that Wells gave a flying fuck.
His hands landed on her hips, the material of that dress—that dress; he'd nearly swallowed his tongue when he'd seen her outside the house this evening—just as soft as he'd thought it would be. Better, though, the warmth of her skin making the fabric even more touchable, even more irresistible, and Wells couldn't help the sound he made, low in his throat, as he pulled her closer.
The rational part of his brain, the part that remembered she was only kissing him so that they had plausible deniability for skulking around, was quickly being overwhelmed by that darker, more primal part of him that only she seemed to bring out.
And maybe he brought something out in her, too, because she was pushing closer to him, her arms twining around his neck, her breasts tight against his chest, and her tongue—
"Oh! Sorry about that!"
The attic stairs were suddenly illuminated by a bright rectangle of light as the door opened, a figure silhouetted there.
Gwyn pulled away and it took everything in Wells not to chase her mouth with his own, but then she pressed her palm against his chest, giving a breathless laugh as she turned to face Morgan.
"Oh god, we're sorry," she said, then looked back at Wells, tugging her lower lip between her teeth and giving the impression of someone who was genuinely a little sheepish. Performance of a lifetime, clearly, because he doubted Gwynnevere Jones had ever been sheepish in her life.
"We were just admiring your gorgeous house, and I think that very lovely wine you served must've gotten to us," Gwyn continued, letting her arm drape naturally around Wells's shoulders as he rested his palm on her hip, fighting the urge to curl his fingers tighter, to bring her right up against him.
Morgan looked at them, her dark eyes taking in everything, Wells was pretty sure, and even as she smiled, there was a brittleness to it. Was it simply because she—sensibly—was not a huge fan of people snogging each other's face off in the private areas of her home, or was it something more? Was it to do with what she had up here in the attic?
"It was appallingly rude of us, Morgan," Wells offered, maneuvering Gwyn down the last step and wondering if he could channel Rhys enough to charm his way out of this.
Morgan just waved a hand. "No, no, not at all! I'm just surprised."
She turned that dark gaze on Wells. "I did ask you if the two of you were together.
Download


Copyright Disclaimer:
This site does not store any files on its server. We only index and link to content provided by other sites. Please contact the content providers to delete copyright contents if any and email us, we'll remove relevant links or contents immediately.