The Honored Society: The Secret History of Italy's Most Powerful Mafia by Petra Reski
Author:Petra Reski , Date: August 2, 2020 ,Views: 21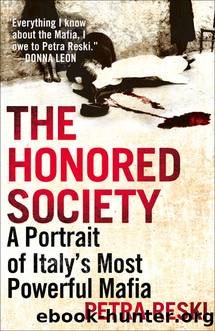 Author:Petra Reski
Language: eng
Format: mobi
Tags: Europe, Organized Crime, Italy, Social Science, True Crime, Violence in Society, History
ISBN: 9781568589695
Publisher: Nation Books
Published: 2013-06-15T05:00:00+00:00



ANNA PALMA
"BASTA," SAYS LETIZIA. "BASTA," SAYS SHOBHA, AND I SAY, "Basta," too. We decided to have lunch. When we're working, we stick slavishly to our mealtimes. Regardless of whether we're tracking down Mafia priests, heroic public prosecutors, or fugitive bosses, we have lunch and dinner; we have starter, main, dessert, and coffee, as if our lives depended on it. For an hour we belong to ourselves again.
"Piccola Napoli," says Shobha, and I agree. The trattoria Piccola Napoli is an eerily beautiful place with extremely effective air conditioning and fluorescent lighting that takes a bit of getting used to since it colors everything slightly blue and makes you feel like a dead fish on ice. A delicious one, though.
When we come down the steps of the Palace of Justice, we see some public prosecutors driving up and slipping out of their limousines. The public prosecutor Anna Palma greets us briefly as she walks past. I've known her since the trial of the murderers of Paolo Borsellino. Since she's been working on the anti-Mafia commission in Rome and for Renato Schifani, the disputed president of the Italian Senate, she is seen more rarely in the Palace of Justice. Before that, she was in the Palermo Anti-Mafia Pool and responsible for the Mafia in Agrigento, Palma di Montechiaro, and Porto Empedocle—the clans that have the closest connections with Germany, where they launder money and hide fugitive mafiosi, who live there as ice-cream salesmen or pizza-chefs, unmolested by the German police.
Anna Palma told me about the arrest of the Sicilian hit man Joseph Focoso, who was arrested in the Saarland village of Spiesen-Elversberg, where he had fled with his wife and children. As a Sicilian son should, he was living there with his parents. The Sicilian police had suspected that Focoso was there since tapping the phones of his relatives in Porto Empedocle and hearing that Focoso's son, who had just traveled from Germany, was given a slap for saying, "But Dad said. . . ." That was the confirmation for his pursuers that Focoso was living with his family in Germany. Since bugs have become the essential weapon of the police, every mafioso watches his tongue. Only children blab—and elderly aunts, like Aunt Giugia, who gave away on the phone the fact that she was supposed to be bringing Sicilian fish to Germany. Clearly for her fugitive nephew, because anyone else could simply have gone to Sicily for themselves. In the end it was his craving for Sicilian fish that did for Focoso. Because along with the fish and his aunt came the mobile task force from Agrigento.
Prior to this there had been years of coordination problems between German and Italian investigators. The Germans demanded proof that Focoso was actually staying with his parents in Spiesen-Elversberg. Regardless of the fish and Aunt Giugia. None of that was sufficient reason to tap the apartment, the Germans said. And the Italians said: if we had proof, we would have had Focoso arrested long ago. In
Download


Copyright Disclaimer:
This site does not store any files on its server. We only index and link to content provided by other sites. Please contact the content providers to delete copyright contents if any and email us, we'll remove relevant links or contents immediately.