The Girl in Dangerous Waters (Emma Griffin FBI Mystery Book 8) by A.J. Rivers
Author:A.J. Rivers [Rivers, A.J.] , Date: May 5, 2021 ,Views: 26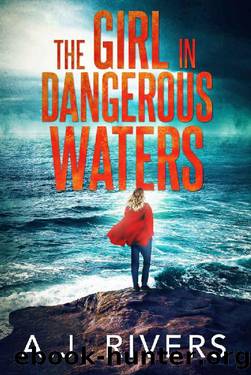 Author:A.J. Rivers [Rivers, A.J.]
Language: eng
Format: epub
Published: 2020-08-28T04:00:00+00:00



Chapter Nineteen
"Emma, it was an accident."
There are those words again. It's Bellamy saying them to me this time, but they don't mean any more to me than when they came from the sleek, polished manager. I shake my head, pacing back and forth across her room. The police dismissed us from the scene an hour ago, and we came straight here. Within just a few minutes of us getting back inside, room service arrived with trays of food for us. It feels like a subtle form of damage control from the resort.
I'm sorry you saw a corpse floating in the pool, I hope these crepes provide you comfort.
"There's something else going on," I tell her. "That wasn't just an accident."
"Why not?" Eric asks. "Even the police investigators agreed with the initial explanation. Rosa went out to the pool for a swim, slipped, hit her head, and ended up drowning. It's awful, but it's not unheard of."
"Maybe," I admit. "But it still doesn't feel right. I just can't see that girl dying that way. You heard what Alonso told them. Rosa swam every morning. Every morning she went out to that same pool. You're going to tell me that all of a sudden, she ends up dying in a freak accident in the pool she swims in every single day?"
"That's what makes it an accident," Bellamy says. "You can do the same thing over and over, but that doesn't stop things from going wrong. Anybody can slip, especially if it's actually somewhere near water."
"No," I insist. "I walked up there on that deck. You did, too. It wasn't slippery at all. A resort like this makes sure their pool deck isn't slippery. People throwing down this kind of money to stay at a resort aren't going to want to end up on their asses in front of everybody when they're showing off their new bathing suit. And that's another thing. Did you see what she was wearing?"
"A… bathing suit," Eric says, drawing out the words because he doesn't understand their significance.
"A really sexy bathing suit," Bellamy adds.
"Exactly. That's not the kind of bathing suit somebody wears to do a few laps around the pool at dawn. That's a bathing suit meant to be seen by someone else."
Bellamy looks like she's thinking about this for a fraction of a second, then shakes her head again.
"Not necessarily. You can't judge what happened based on what she was wearing. Maybe that is the type of suit she wore every morning to do her laps because it made her feel good about herself, and she wanted to start her day off well. Or, from a less perky perspective, maybe it was a suit she didn't like the way she looked in, so she wore it as her motivation to work out harder every day."
"No. She was in full makeup. Her hair had styling product in it."
"For all you know, maybe that's just what she did. There's an agent in the fraud division named Jojo. She's a perfectly nice-looking woman.
Download


Copyright Disclaimer:
This site does not store any files on its server. We only index and link to content provided by other sites. Please contact the content providers to delete copyright contents if any and email us, we'll remove relevant links or contents immediately.