The Elfrida Goto Trilogy: Three Full-Length Space Opera Thrillers (The Solarian War Saga) by Felix R. Savage
Author:Felix R. Savage [Savage, Felix R.] , Date: July 12, 2022 ,Views: 7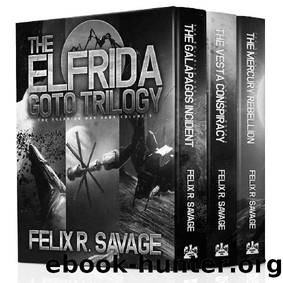 Author:Felix R. Savage [Savage, Felix R.]
Language: eng
Format: epub
Tags: Science fiction space opera thriller
Publisher: Knights Hill Publishing
Published: 2015-07-22T14:00:00+00:00



xxvi.
"Whoopsies," Shoshanna said.
Her retinal interface showed her the Vesta Express vanishing into the distance. She closed her right eye and squinted to see better. She was using the U-Vesta telescope itself to observe the surface of the protoplanet. She zoomed in on the people leaping like grasshoppers up the side of the canyon towards the Chinese spaceship.
"That's not all of them, Fee."
"It's all the important ones," Sigurjónsdóttir snapped. "Congratulations. You may just have signed the solar system's death sentence."
"You need to think up some more plausible threats," Shoshanna said. Her ultra-high-end BCI, which could analyze microexpressions and minute vocal stresses, reported that Sigurjónsdóttir thought she was telling the truth. That was interesting.
She hopped off the deck and walked barefoot through the soybeans, followed by her cameraman. The ground bounced under her steps like a waterbed. The plants' roots nestled in a layer of compost made from human excrement. It smelled awful. It squidged between Shoshanna's toes. Ugh, this hab was so disgustingly … organic. She wanted to put her shoes back on, but she had to look confident and relaxed. She glared down over the edge of the soycloud.
She had not achieved total control over the ecohood. Short of following through on her threat to cut off the power, there was nothing she could do to restrain a hundred and twenty thousand people who were now frightened for their lives. Crowds filled the streets and squares of Bellicia City. Would-be escapees jammed the road up to the airlock. The woods on the other side of Olbers Lake also teemed with infrared signatures, indicating that a number of idiots had fled that way.
It was a primordial urge, Shoshanna supposed, to take refuge in the trees—an urge which, as a spaceborn human, she did not have. Safety, to her, meant rad-proof shielding and plenty of consumables on deck. She was slightly agoraphobic, and the view from up here made her queasy. She turned back to the camera.
"That's not good enough," she told Sigurjónsdóttir. "You were ordered to get everyone off the train. You didn't do it. So; consequences."
She had to make good on at least one of her threats soon, or they might decide that she was just bluffing.
"That spaceship there. It's Chinese, isn't it? That's what you were hiding in Rheasilvia Crater. Did you know that all Chinese spaceships have autonomous maneuvering capability? Or did they fool you with their wind-up pilots and crew?"
"We know," Sigurjónsdóttir sighed.
"Of course you know. Because you were attempting to fuse those capabilities with your own asteroid-engineering technologies, to develop illegal levels of automation. No further need for pesky humans in outer space. Labor regulations go bye-bye."
"We are not jointly developing anything with the Chinese. We are pro-human, as it happens."
"Your actions suggest otherwise." Shoshanna's voice went cold. "UN restrictions on AI serve a double purpose. They prevent emergent hostile behavior; see Mars. They also preserve a diverse realm of labor for Homo sapiens. That's your basic human dignity and your economic utility right there. You support autonomous AI, you're cutting the throat of the system-wide economy.
Download


Copyright Disclaimer:
This site does not store any files on its server. We only index and link to content provided by other sites. Please contact the content providers to delete copyright contents if any and email us, we'll remove relevant links or contents immediately.