The Duke's Darling Debutante by Dallen Maggie & Madison Katherine Ann & Dallen Maggie M
Author:Dallen, Maggie & Madison, Katherine Ann & Dallen, Maggie M. , Date: August 4, 2021 ,Views: 34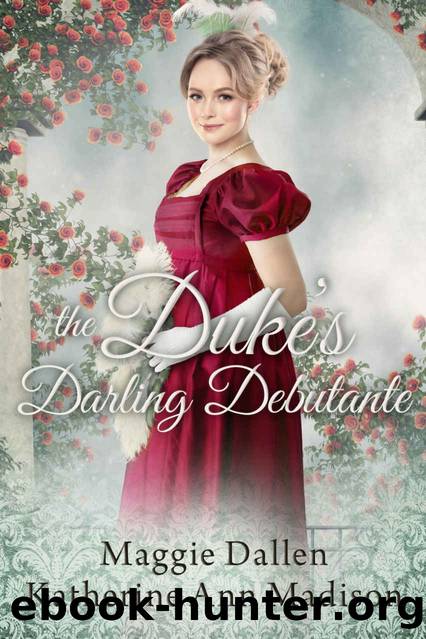 Author:Dallen, Maggie & Madison, Katherine Ann & Dallen, Maggie M.
Language: eng
Format: epub
Published: 2021-06-28T16:00:00+00:00



9
Luke squeezed himself past a particularly aggressive fern, not waiting for either woman to answer lest they decide there was not room for him.
Which—considering Tabetha's behavior yesterday and the tight space—was a distinct possibility.
Tabetha spun about, her gasp filling the small alcove even as she bumped into his chest. She brought her hands up to catch herself and he automatically circled her small waist with his own hands, steadying her before she fell.
Which would have caused quite the scene.
He nearly grinned to think of how she'd either fall through the plants or knock them all down, revealing the tête-à -tête currently happening in the small space.
To his delight, the idea of humiliation did not set his teeth on edge. In fact, a grin played at the corners of his lips. What was a bit of embarrassment when weighed against this sort of intimacy with Tabetha?
"What is funny?" she asked as she held onto his coat.
Which gave him ample opportunity to appreciate her soft curves pressed against his larger frame. "I pictured us knocking down the plants, revealing our location."
A light giggle sounded behind Tabetha and his gaze flicked back to Lady Mariah. Truly a gentle beauty, she gave him a warm smile as she made a shooing motion with her hands. "His Grace is right. The space is too small. Two of us should leave to avoid a scene."
Tabetha, still holding on to his lapels, looked over her shoulder at her sister. "Are you volunteering to be one of the two?"
Mariah wrinkled her nose. "I was here first. Off with you." Then she leaned close to her sister's ear. "And don't forget that communication is key."
Tabetha huffed. "I've some things I'd like to communicate to you later this evening."
Luke's lips spread into a wider smile. He likely looked foolish but something about hearing the siblings' good-natured banter, it filled his insides with a light sort of joy.
This, right here, was what had been missing from his life for so long. What he'd hoped for in a marriage and what he'd found in the woman currently in his arms.
Mariah tapped Tabetha's shoulder with her fan. "I look forward to it. Now go. Before we're discovered."
Luke cleared his throat as he twisted around to plan his exit strategy. The space was tight, with little room for Tabetha to back up and allow him to turn. It could be done, of course, but here in the confines of this small space, they were delightfully close and he honestly wished to delay their departure a moment or two. Once they stepped out into the room...
"Give me a moment," he murmured. And then he lifted Tabetha, reversing their positions so that she was now closest to where he'd entered.
"Your back," she cried, even as he set her back down, though he didn't let her go. In fact, he'd like to pick her up again, hold her weight against him.
"My back is fine. I've fully recovered from the spasm but thank you for your concern." With one last squeeze to her waist, he slipped his hands from her torso, dropping them to his sides.
Download


Copyright Disclaimer:
This site does not store any files on its server. We only index and link to content provided by other sites. Please contact the content providers to delete copyright contents if any and email us, we'll remove relevant links or contents immediately.