The Broken Statue by Margaret Lukas
Author:Margaret Lukas , Date: October 14, 2021 ,Views: 39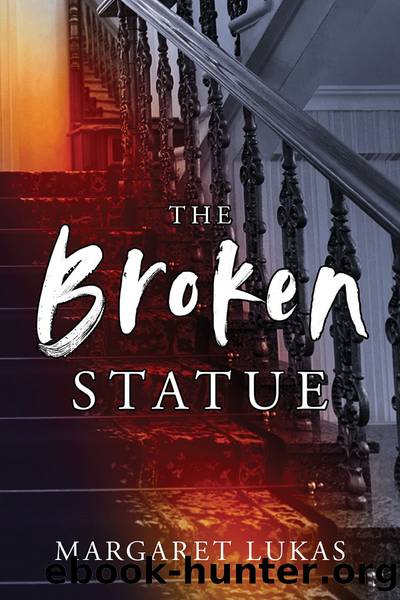 Author:Margaret Lukas
Language: eng
Format: epub
Publisher: BQB Publishing
Published: 2021-10-15T00:00:00+00:00



Twenty-Six
"I've something to show you," Kid said as Bridget came from the kitchen and joined him. "When I saw, I circled back."
His urgency made her edgy, turned her legs dull. She glanced over her shoulder. Tate trailed behind, but she came on, not letting them out of her sight. They passed through the bar. Kid grabbed the handle of one of the wide front doors and held it open for Bridget to step out. "Down there," he said.
He felt warm, easy, but June's refusal to acknowledge her, Doc's news of Lily's impending death, and his vile words about Papa Henry's people, still cut her. She feared seeing what Kid wanted to share. She looked away, watched the two trees, quiet today, and spent a moment feeling the cold air on her face. Though not above freezing, the air felt dangerously close to that warmth. In summer, the businesses had bright awnings across their storefronts to shade windows from the heat, women walked with colorful parasols, men tipped bowlers, streetcars rumbled, and wagons were a non-stop annoyance. The awnings, too fragile for heavy snowfalls, were gone, leaving gray, stark buildings, and the streets were quiet but for the sounds of construction blocks over.
"You all right?" Kid asked.
Fifty years had passed since the Omaha tribe was forced to cede the land the city stood on, twenty since Standing Bear fought in an Omaha court to officially be recognized as a person, fifteen since George Smith, a black man, was lynched there for leering at a white woman. In all the passing years, had attitudes changed at all?
"Down there," Kid said.
She reached only to his chin, and he leaned close, nearly touching her cheek, sighting his eyes at the level of hers. "The middle of the next block."
She tensed again, wanting never to look, stalling her gaze on a shiny black automobile.
"That your horse?" Kid asked. "What's his name? He's stabled where I board mine."
Bridget's heart leapt. The porch swayed, and she grabbed Kid's arm to steady her wooziness. "Smoke!"
"I noticed him in the livery, wondered if he might be the horse you lost. Then seeing him on the street, I thought you could get a good look yourself."
Smoke's all right. Still in Omaha. She let go of Kid as her shock turned to anger. He was speaking, but she couldn't concentrate on his words. Smoke in broad daylight. A stolen horse in broad daylight for the second time. What did that mean? Leaving the kitchen, she'd felt gloomy and stressed. Now this. A sob gathered in her throat. How like finding Papa Henry's body all over again. She started for the porch steps. She'd get to Smoke, and this time she'd lead him away. Straight up the stairs and into the brothel if need be.
Kid caught her arm. She slapped his hands, tried to twist away, and ignored his efforts to talk her down. The more she fought, the tighter and the closer he held her. His body a wall, his arms pinning her.
Download


Copyright Disclaimer:
This site does not store any files on its server. We only index and link to content provided by other sites. Please contact the content providers to delete copyright contents if any and email us, we'll remove relevant links or contents immediately.