Texas Big Man (A Small Town Bad Boy Romance) by Penny Wylder
Author:Penny Wylder [Wylder, Penny] , Date: September 17, 2020 ,Views: 7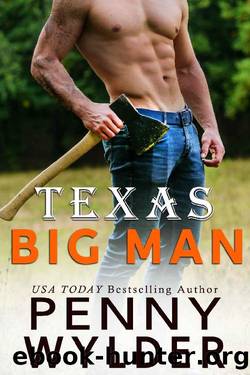 Author:Penny Wylder [Wylder, Penny]
Language: eng
Format: epub
Publisher: Penny Wylder Books
Published: 2020-08-19T23:00:00+00:00



8
Harlan
Days off on a ranch like this pass slowly. There's not much to do if you're not working—at least not yet. But even though we're not working on Trevor's property, I do some work on mine.
My piece of land is on the shore of the spring-fed lake. It's beautiful, and it's clear that I got one of the best pieces of land here. Without a doubt. I have plans to build a house here, and Trevor agreed to have his crews frame out my home along with the other buildings. Which means I need to get started with clearing the land and finalizing the plans. I have a good idea of what I want, but it's not solid yet.
I spend a few hours on the land, picking exactly where I want the house to be and getting the view right, and then I start to clear the brush and the few trees from that space. But it's still my day off, and I don't have to run myself into the ground. Yet the sun is already fading when I head back toward the house. I let myself get so engrossed in my plans that I didn't notice how much of the day had slipped away.
While I was working I didn't let myself wonder what Melena was doing, but as I walk back to the house to shower and relax, I do wonder. Was she writing again? I saw my name in that book I picked up last night, and I'm desperate to get another look.
Was she writing her fantasies? Her dreams? Was it a journal or fiction? Did she fill more pages today thinking about me? I haven't seen her at all yet today. She slept late this morning.
Is she okay after last night? The second I saw that man go after her, I saw red. If I hadn't decided to drive after her…thinking through the possibilities makes me sick. But as I step out of the shower in my towel, I realize that we might have bigger problems.
The temperature has dropped a few degrees, and the wind is already picking up. One of the good things about Texas being so flat is that you can see weather from miles away, and that is one a hell of a storm I sense coming toward us.
I toss on my clothes quickly, not knowing how long we have before the storm hits. "Mel!" I call, jogging up the stairs to the house. She's sitting at the kitchen table, and looks stunned when I burst in, like she had forgotten that I even existed. Her clothes are soft and comfy, and I resist the distraction though every part of my mind is aware of how sexy she is just sitting there. "There's a storm coming," I say. "Shoes on, we need to make sure everything's ready."
Frankly, there isn't much that we can do, but I want to check on the horses, make sure any loose tools and supplies are tied down, and pull the cars away from the house and tall trees in case the worst happens.
Download


Copyright Disclaimer:
This site does not store any files on its server. We only index and link to content provided by other sites. Please contact the content providers to delete copyright contents if any and email us, we'll remove relevant links or contents immediately.