Taken Care Of: An Autobiography by Edith Sitwell
Author:Edith Sitwell [Sitwell, Edith] , Date: November 22, 2020 ,Views: 19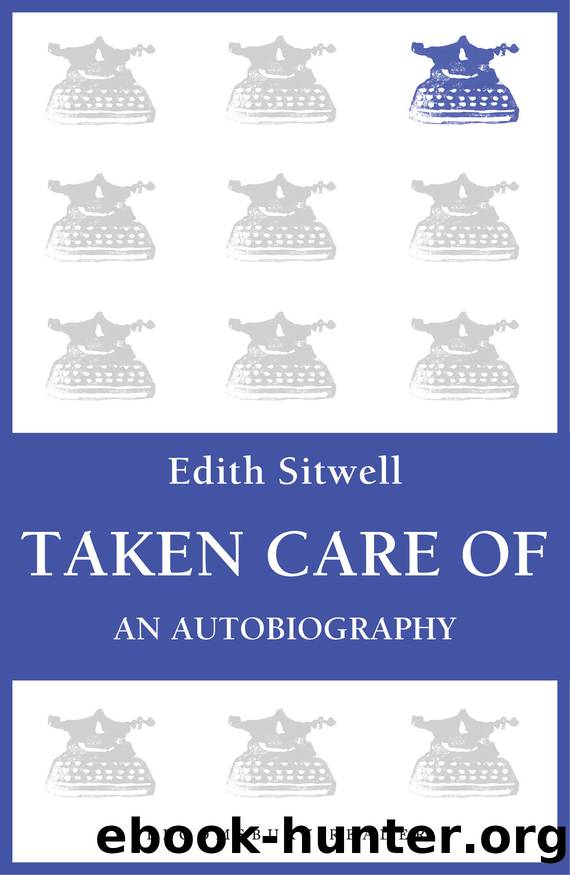 Author:Edith Sitwell [Sitwell, Edith]
Language: eng
Format: epub
Tags: Autobiography, Biography, Literary Figures, Non-Fiction, Personal Memoirs
ISBN: 9781448201747
Google: j3EDGa6THCIC
Publisher: A&C Black
Published: 2011-09-27T23:00:00+00:00



Chapter Twelve
A Man with Red Hair
I Wish i could remember in what year, when my brother Osbert and I arrived at Montegufoni on a visit to our parents, we were greeted by my father with the news that 'a most extraordinary man came over to luncheon here—a man with red hair: I think he is a writer; he said his name is Lawrence. He had heard of you. He brought his wife. She jumped on all the beds after luncheon—to see if the mattresses were soft.' (My father had a superb collection of painted and gilded seventeenth-century beds.) 'When they signed their names in the visitors' book, she put, after hers, "Geborene", and then something I couldn't read. So extraordinary! Of course she was born! Everybody is.'
(The visitors' book was a source of incessant bewilderment to my father, as strange entries made, from time to time, their appearance. Once, for instance, after a peer with two titles, 'So and So and So and So' had lunched, my father found written directly under this entry, that of
'Swan and Edgar
Waring and Gillow'
—the names of famous London shops.)
A few days after we received the information about the visit to Montegufoni of Mr. and Mrs. Lawrence, we received from them an invitation to tea.
We drove through the Tuscan countryside to their tall, pink house, that looked as if it were perched upon a hen's legs. It was full of Lawrence's pictures. The subjects of these were rather like a solid Doppelgänger of Mrs. Lawrence, and made one feel as if one had been very severely bumped! Otherwise, the house had a serious Continental comfort. Mr. Lawrence looked like a plaster gnome on a stone toadstool in some suburban garden. At the same time he bore some resemblance to a bad self-portrait by Van Gogh. He had a rather matted, dank appearance. He looked as if he had just returned from spending an uncomfortable night in a very dark cave, hiding, perhaps, in the darkness, from something which, at the same time, he on his side was hunting.
His hair, which had been very red, was now dimmed by illness, as though dust, or ash, had quenched that flame. It hung down, at moments, into his bright and eager eyes, hindering him from seeing anything. He had a sad look of illness; at times he had a kind of eager quickness, as if he were afraid of something being left unfinished. At other moments he would lag behind in the conversation as if he were trying to drag time to a standstill.
Though courteous and amiable, he was determined to impress upon us that he was a son of toil (that was the great romance, apart from his marriage with Mrs. Lawrence, in his life) and he seemed to be trying to make us uncomfortable by references to the contrast between his childhood and ours. But this was not our fault. Our childhood was hell, and we refused to be discomfited.
Mr. Lawrence talked to us a great deal about our parents, ascribing to them characteristics which were completely alien to them.
Download


Copyright Disclaimer:
This site does not store any files on its server. We only index and link to content provided by other sites. Please contact the content providers to delete copyright contents if any and email us, we'll remove relevant links or contents immediately.