TOS - Bantam - 10 - World Without End by Joe Haldeman
Author:Joe Haldeman , Date: April 9, 2021 ,Views: 20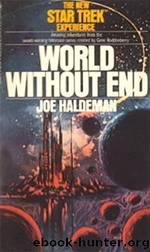 Author:Joe Haldeman
Language: eng
Format: azw3
ISBN: 9780553125832
Publisher: Bantam Books
Published: 2020-07-14T16:00:00+00:00



Chapter 7
When the sun came back on, Kirk's people and the two aliens were standing exhausted in the center of a ring of unconscious monsters piled two and three meters high. Kirk slumped to the ground, and so did the others.
"Bones, you can pass around your magic pills now," he said. "We have a good long walk ahead of us, if we don't want to spend another night like this."
"No pills," he said, opening his bag. "Hold out your arm."
"Joy," Moore said.
"If you hold your arm perfectly still, it doesn't hurt a bit."
"They've been telling me that since I was five years old," Moore said. "I don't believe in the Tooth Fairy anymore, either."
(The hypo fired a premeasured dose of medicine on a blast of compressed air. It didn't hurt if you managed not to flinch at the sound, but few managed.)
Captain Kirk tried not to wince. For obvious reasons, McCoy saved Moore for last.
They clambered over the heap of bodies—which smelled like a cross between a chemical plant and a zoo—and hurried on down the path, Moore and Wilson walking backward half the time, in case some beast decided to brave the light long enough for breakfast As they revived, though, the "mistakes" made straight for the cool darkness of the jungle, very few of them stopping for so much as a mouthful of some companion.
"Are you willing to give us some suggestion as to a form of transportation more efficient than walking?" Spock asked the magician. "Besides flying," he added, without sarcasm.
Both the magician and W'Chaal were stumbling with fatigue; obviously, McCoy couldn't help them with his shots. "When we reach the lan-Chatalia domain," the magician said, "I should be able to find us a drawn cart. But I doubt that the little one and I will be able to walk that far."
"We will carry you when necessary," Spock said, "but the longer you can travel without help, the sooner we will be out of danger."
They managed about five kilometers. W'Chaal fell first, and the magician collapsed while Moore was hoisting up the other. McCoy offered another shot, but both Moore and Spock declined.
The air was still and the morning grew hot. Moore had light gloves beamed down, to keep his sweat off W'Chaal. As they labored along, they could hear others pacing them, behind the wall of greenery. The ones who weren't carrying Chatalia held their phasers at the ready.
They didn't dare seek shade during rest stops, which Bones insisted on, five minutes out of every hour.
The interludes weren't particularly restful, since the jungle rustlings stopped when they sat down. They could feel the eyes of patient monsters, waiting for dark.
As they neared the end of the jungle, several hours later, two of the creatures did attack, staggering blindly into the light, aiming at their sound and smell. McCoy and Wilson dropped them both.
Their first exposure to Ian country was not impressive. Blue vegetables that looked like sick cabbages struggled through hard gray soil, in no apparent pattern.
Download


Copyright Disclaimer:
This site does not store any files on its server. We only index and link to content provided by other sites. Please contact the content providers to delete copyright contents if any and email us, we'll remove relevant links or contents immediately.