Sparta's Second Attic War: The Grand Strategy of Classical Sparta, 446–418 B.C. by Paul A. Rahe
Author:Paul A. Rahe , Date: October 14, 2021 ,Views: 52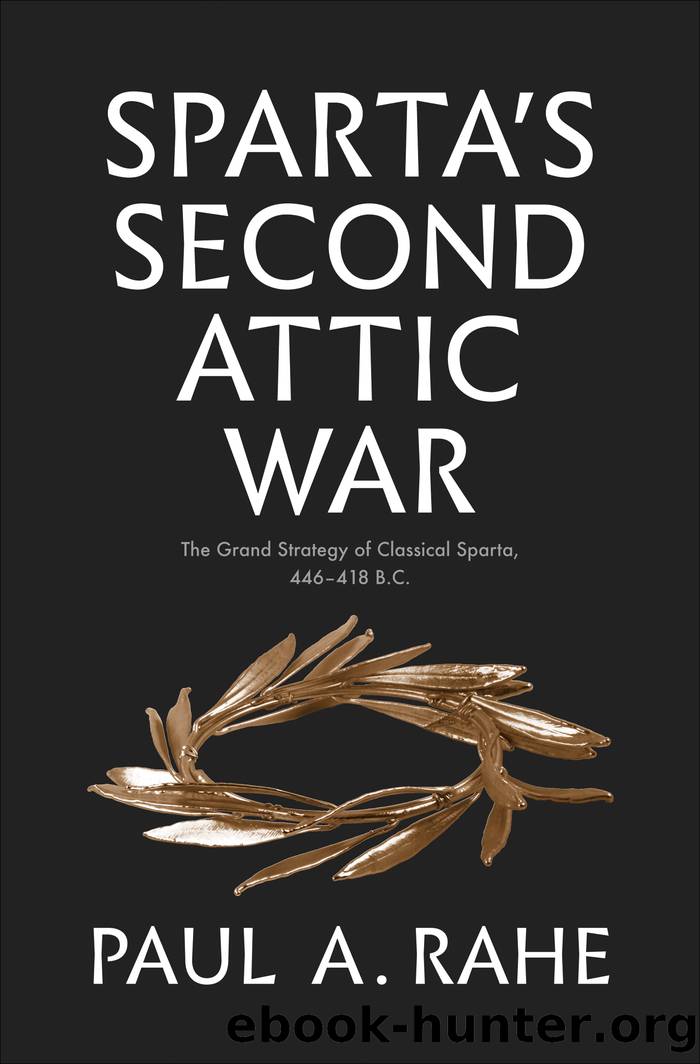 Author:Paul A. Rahe
Language: eng
Format: epub
Publisher: Yale University Press
Published: 2020-10-14T16:00:00+00:00



Map 22. Amphipolis and Her Walls, ca. 424–422
While Cleon and the men under his command were marching three miles up the Strymon and making their way along the road through the valley lying between the eastern wall of Amphipolis and the westernmost foothills of Mount Pangaeum, Brasidas returned from Cerdylium with his men. Concerning this man's thinking, Thucydides appears also to have been exceptionally well-informed—thanks, we must suppose, to what he later gleaned from conversations with Clearidas and others in Amphipolis.21
Brasidas was not eager to stage a formal hoplite battle with the Athenians and their allies. At this point, with the arrival of the Thracian mercenaries and the Edonian cavalry and peltasts, the numbers in the two armies may have been more or less equal. But he did not think his ragtag army of hoplites (many of them, we have reason to believe, recent recruits) a match for the considerably larger phalanx made up of Athenian citizens and the most formidable of their Lemnian and Imbrian cleruchs. Victory could be achieved, he was persuaded, but only by means of art and stealth. Moreover, if he showed to his opponents the number of men under his command and the fact that many of them possessed only the minimally necessary equipment, it would not, he thought, be to his advantage—for he would earn their contempt. So he did what he could to render his forces invisible, and he waited and watched while Cleon led his men up the large, steep hill a mile or two north-northeast of the city—where, some scholars believe, the Athenians in Cimon's day had made their abortive attempt to found a settlement at Ennea Hodoi. From the top of this great hill, it was possible to peer into the city of Amphipolis.
At this point, the son of Tellis summoned his infantrymen and delivered a speech in which he drew attention to the degree to which Cleon's army, which was itself visibly engaged in looking around, was in disarray; and this he took as a sign that the Athenians were psychologically unprepared for battle. Then, after explaining to his men the character of his plan and reminding them that their own liberty and that of the Greeks more generally were at stake, he split his force in two. One hundred fifty of his hoplites he posted at "the first gates," which were situated at the northwestern corner of Amphipolis' outer circuit where, under his direction, the Amphipolitans had built a palisade linking the city's walls with the bridge a short distance to the north—and there he joined his men. The remainder, the vast majority, he assigned to Clearidas, whom he sent to "the Thracian Gates," which were located either at the northeastern corner of the outer circuit or further south on the city's eastern wall alongside its acropolis. At the appropriate time, Brasidas hoped to deliver a one-two punch.22
While Brasidas was marshaling his men and making his preparations, Cleon blundered on, oblivious to the danger he was in. When
Download


Copyright Disclaimer:
This site does not store any files on its server. We only index and link to content provided by other sites. Please contact the content providers to delete copyright contents if any and email us, we'll remove relevant links or contents immediately.