Sister Time-Callys War 2 by John Ringo & Julie Cochrane
Author:John Ringo & Julie Cochrane [Ringo, John] , Date: April 8, 2021 ,Views: 25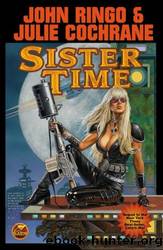 Author:John Ringo & Julie Cochrane [Ringo, John]
Language: eng
Format: epub
Tags: Fiction, General, Science Fiction, Adventure, Sisters, Space Opera, Military, Human-alien encounters, Life on other planets, Female assassins
ISBN: 9781416555902
Publisher: Baen
Published: 2008-12-09T08:00:00+00:00



"You . . . made it?" Cally asked, sliding a menu across the table.
"Is it obvious? Is that a problem?" She might have been any woman, for a moment, as she critically examined the garment.
"I can only tell because it's Galactic silk and made in a single piece, and no, no problem. It looks great."
And worth about ten years of my salary, I think.
"Good. Were you able to obtain the information I requested?" The other woman's clear tones betrayed the tiniest hint of her childhood Georgia accent, but only to an experienced operative like her sister.
"Oh, yeah. We got it. It was a milk run," the assassin assured.
"That is good. Were your superiors sufficiently satisfied to agree to the rest of my contract? Also, I hope the milk was good?"
"Milk? Oh. That was just a figure of speech. Milk run, I mean" she said. "Yes, we have a go for the mission. Here." She passed a cube across the table. "This has everything we found."
"Let's go ahead and order. It would look strange if we just sat here for too long." She looked down the menu, running her finger over the options, "I know you can't, but it's a shame you can't eat meat. They have the best she-crab stew in Charleston."
Michelle winced.
"It's a regional specialty. Have you really never eaten meat since we were kids?"
"I have not. If I were to eat it after all this time, I would probably have to make an extra effort just to be able to digest it. I would prefer a salad."
"Can you do dairy, then? They do a very good caesar salad."
"We have dairy. It was not appropriate for the Indowy themselves, but because humans are mammals, they made allowances. Also, I think they like the cows. Though the Indowy do not eat other animals, their population density has made large, mobile species a certain rarity on their worlds. I think I will try your caesar salad, thank you."
Download


Copyright Disclaimer:
This site does not store any files on its server. We only index and link to content provided by other sites. Please contact the content providers to delete copyright contents if any and email us, we'll remove relevant links or contents immediately.