Signs of a Struggle by Tony Kaplan
Author:Tony Kaplan [Kaplan, Tony] , Date: August 6, 2020 ,Views: 114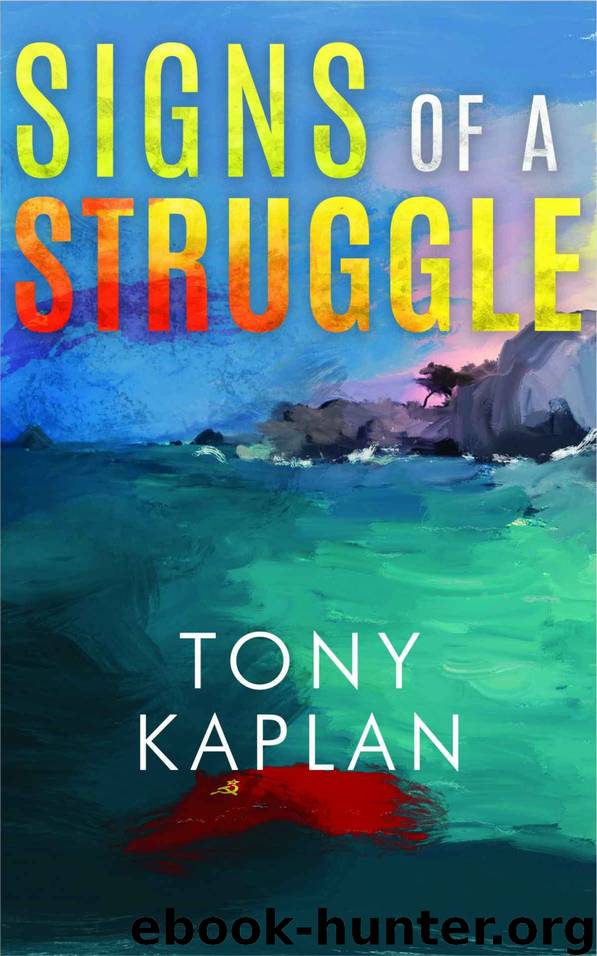 Author:Tony Kaplan [Kaplan, Tony]
Language: eng
Format: epub
ISBN: 9781784656003
Publisher: Vanguard Press
Published: 2020-04-29T22:00:00+00:00



24
I should let Panagiotis know. What will he say? "Don' worry, Dhomas." Dhomas… he calls me Thomas – everyone else calls me Tom – he got my name off my passport when I first saw him; everyone else has my name from me – Tom. Is that just a Greek thing, or is it significant? Do the cops have Lucy's laptop? If so, why? What would she have on her computer they want kept silent? Who else might be involved? Who can I trust?
Across the bay I see Antonis sitting on the balcony of his cousin's kafenion, taking in the last of the afternoon's rays. I could ask him what to do. Maybe he can investigate. I trudge around the arc of white sand of the beach, my steps in the soft sand fast and determined, then alight the gravel path to the kafenion. Antonis is looking perturbed, reading some papers intently. He does not greet me in his usual friendly way – he just gives a tip of his head and a grunt. Is he annoyed that the afternoon with Agapi hadn't worked out the way he'd wanted. She'd remained polite to him, while giving me the amused affectionate glances he'd craved. Even the little girl, Agapi's daughter, had rebuffed him and had sought me out instead, intuiting her mother's preference in the way only small children can.
But I can't let this deter me. I sit down opposite Antonis. "I've got a problem, Antonis," I tell him. "This is serious."
"You have a problem? I too have a problem," he says still perusing his documents. For a moment I think he is going to tell me what a cunt I am for stealing the girl of his dreams. "The body in the bridge… it is not Mavros Epistemos," he says, frowning. He looks up, and waits for me to take this in.
"And it's not Lambros, the communist leader either. He was even more old. The body is the body of a young man, or a teenager. They can tell this from the bones. The Pathologist is very sure of this. The body has all his teeth – rotten, but all present. We checked with the families – Mavros and Aris, they both have some teeth missing. So who was this in the bridge we cannot say. The Police Chief has checked the records – no missing teenagers from those times. And why the badge in the hand?" He shakes his head. "Maybe not political. But the badge…?" He looks downcast. "Maybe we don' find who this body is. This I don' like." He pauses. "You will still write about my investigation for your newspaper in London?"
What can I say? Probably not. Shame, the poor guy is not going to get the fame he was hoping for. I prevaricate, not wanting to bring him down too quickly. He looks grateful.
"So, you have problems too?" he asks
I tell him I am worried about Lucy. I explain to him the conundrum about Lucy's missing computer and the incongruous and almost definitely bogus e-mails.
Download


Copyright Disclaimer:
This site does not store any files on its server. We only index and link to content provided by other sites. Please contact the content providers to delete copyright contents if any and email us, we'll remove relevant links or contents immediately.