Serpentine: Charles Sobhraj's Reign of Terror From Europe to South Asia by Thomas Thompson
Author:Thomas Thompson [Thompson, Thomas] , Date: October 14, 2021 ,Views: 128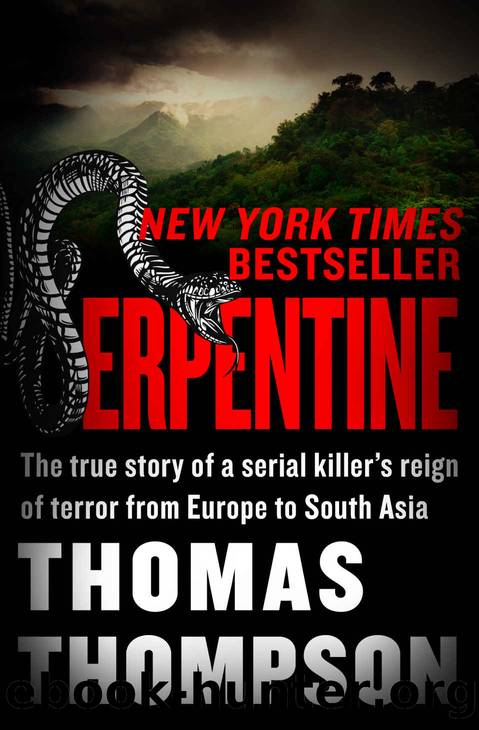 Author:Thomas Thompson [Thompson, Thomas]
Language: eng
Format: epub
ISBN: 9781504043274
Google: wrCzDQAAQBAJ
Published: 2016-12-13T03:18:06.773378+00:00



CHAPTER TWENTY-FIVE
For several listless days, Marie-Andrée moped around the Rajah Hotel in Bangkok, her physical being assaulted by jet lag and her emotions torn by the puzzling and painful burlesque that was Charles' welcome. "I find my love rather distant," she wrote in her journal, employing remarkable understatement, "giving me the impression of not wanting us to be intimate. I am disappointed. After the second day, the only word is disappointed. Disappointed by his behavior toward me! I have the feeling of not being able to please him. I have the feeling that his love for me is not that deep, and the worst of it is that I shall have to play the role of a secretary toward a woman he wants to conquest …"
Before the first week was over, Charles pried out of Marie-Andrée the information that her purse contained $2,000 in traveler's checks. His attitude softened and his affection increased in direct proportion to this revelation. Suddenly May disappeared from the other side of the bed. He banished her, Charles confided, because he wanted Marie-Andrée to understand fully the scope and horizons of his "business." From his pocket he pulled a handful of tiny stones and dropped them on Marie-Andrée's pillow. These were worth several thousand bahts. It was his intention to find tourist customers who would pay twice or thrice what he purchased them for. And it was necessary that he remain friendly with May, for she was extremely knowledgeable in the gem business and could spot a flawed ruby without a magnifying glass. Moreover, she could steer clients to him, and tip him off to possibilities of major sales. "Thai girls are very proper," Charles said. "May would not help me with my business unless she thought I loved her." That was the reason for his charade, and that was the reason why Marie-Andrée would have to tolerate the role of secretary. Only for a short while. Only until his jewelry business grew successful. Then he came directly to the point. He wanted Marie-Andrée's $2,000 to invest in his endeavors. His absolute guarantee was that she would double her money if not increase it tenfold or more.
Prudently, the Canadian girl refused. This was her insurance money, her return to Canada if this fling did not work out, as indeed it seemed unlikely to do. But Charles wheedled and cajoled, and kissed and held her, and whispered the words that she wanted to hear. She cashed $1,000 of her checks and the money disappeared into Charles' pocket. True, she extracted a quid pro quo for her investment, that being the permanent expulsion of May from Charles' schedule. But this promise lasted about as long as the ice cubes in a Bangkok gin and tonic.
On a Sunday morning not long after Marie-Andrée's return to Bangkok, Charles slipped out while she was still sleeping under a listless ceiling fan in the thick August heat of their hotel room. He picked up May and went to the Thieves' Market, a carnival of vendors under crimson and orange tents.
Download


Copyright Disclaimer:
This site does not store any files on its server. We only index and link to content provided by other sites. Please contact the content providers to delete copyright contents if any and email us, we'll remove relevant links or contents immediately.