ST TOS - 123 - Exodus - Vulcan's Soul 1 by Josepha Sherman & Susan Shwartz
Author:Josepha Sherman & Susan Shwartz , Date: April 9, 2021 ,Views: 27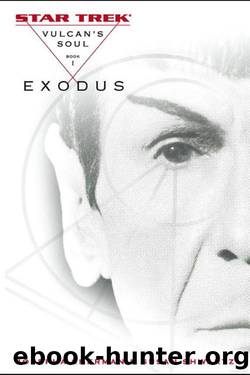 Author:Josepha Sherman & Susan Shwartz
Language: eng
Format: azw3
ISBN: 9780743463584
Publisher: Simon and Schuster
Published: 2020-07-14T16:00:00+00:00



Thirteen
Memory
"This is your fault!" Skamandros shouted at the high priestess. He flung himself forward until he crouched beside Surak like his shadow. "If my master dies…"
"You will extract my katra from this crown and bring it, if you can, to the Halls of Ancient Thought," came Surak's level voice. "For now, however, you will apologize to this worthy priestess for your lack of control."
Surak rose to his feet, the crown glowing on his head.
Not even a "thee." Skamandros's face went dark. "I ask pardon," said Surak's shadow.
The Unbonded clustered around the high priestess, clearly prepared to defend her. Most of them, Karatek remembered, were Healers-in-training. Who better to know a man's vulnerabilities than those who knew best how to preserve life?
"Thee had great provocation." The high priestess inclined her head, accepting Skamandros's apology despite its patent insincerity.
Karatek reached out to take the crown from Surak's brow, then let his hands fall.
"I didn't think such a thing was possible," he whispered. "It's a telepathic recorder, isn't it? Night and day, I would not have thought the te-Vikram were far enough advanced to develop such a thing!"
Everyone knew that the adepts of Seleya and Gol could touch one's thoughts-and more. But for that skill, for an intimacy that profound and secret to reside in the gems and wires of a machine…
The adept of Gol, who had long forgotten his own name, cleared his throat in what Karatek, to his amazement, recognized as disgust.
"Thy wonder is ill advised," he rebuked Karatek and Surak. "Consider what this… this instrument cost. Not in gems, but in the total number of minds the te-Vikram violated in creating it."
Karatek flinched at the thought. In his passage through the desert, he had seen enough of te-Vikram violence by conventional means. All he wanted now was to survive the trek home to ShiKahr and take up his old life. He had not needed Surak's calculations to know how improbable that second ambition was, especially now.
"An interesting moral point," the high priestess cut across his chill voice. "Sacrifice was inflicted on many Vulcans to produce this device, which records thoughts, memories, and even emotions-although T'Kehr Surak here"- her voice went ironic-"would claim we should suppress them. I myself am reluctant to destroy what is a work of great craft and, potentially, much use, for good or ill."
"It should be smashed beyond the ability to reconstruct!" snarled the adept.
"Why?" asked Surak. "If, out of a sense of moral outrage, you destroy it, you pay no tribute to the sacrifice forced upon the men and women whose minds were violated in creating this coronet. If you use it, however, in the enhancement of science or philosophy, it would seem to me that you create a memorial."
"I do not doubt," said the high priestess, "that this is a fascinating new ethical speculation. I can think of no one better equipped to pursue it than Surak of Vulcan. It can be the subject for thy Second Analects," she added with a bleak smile. "I shall look forward to them.
Download


Copyright Disclaimer:
This site does not store any files on its server. We only index and link to content provided by other sites. Please contact the content providers to delete copyright contents if any and email us, we'll remove relevant links or contents immediately.