ST TOS - 068 - Sanctuary by John Vornholt
Author:John Vornholt , Date: April 9, 2021 ,Views: 21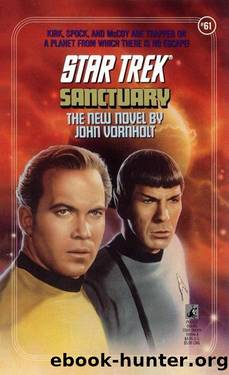 Author:John Vornholt
Language: eng
Format: azw3
ISBN: 9780671769949
Publisher: Pocket Book
Published: 2020-07-14T16:00:00+00:00



hypo and perhaps twenty colored vials for it, most of
them blue and a handful red.
Several of the blue ones had evidently been
used.
"I surmise," said Spock, "that the blue
vials are a sedative and the red ones, of which there are
fewer, are a couateractive stimulant. Let us
hope that these hypo sprays are not encoded
to the Senites like their weapons. I suspect the
reason we cannot operate their weapons is that the
Senites may have implants and transmitters
inserted into their bodies during the surgery."
"If you say so." Renna shivered.
"There are a lot worse parts to the surgery than
that."
The scaly fugitive on the bed began to twitch
slightly, and Spock quickly loaded a red vial
into the hypo and delivered it into the alien's arm. The
Vulcan motioned Renna to step back, while he
loosened the fugitive's bonds and took a
position behind the bed. Groggily, the scaly being
came to his senses and sat up. He looked first
at the unconscious Senite beside him, then gazed at
Renna; it didn't take long before he growled
angrily and lurched toward the woman. Luckily,
Spock was behind him and applied the nerve pinch with such
strength and precision that the fugitive toppled back
into unconsciousness.
"Whew!" breathed Renna as she helped Spock
return him to the bed.
"At least we know it revives them."
"Yes," said Spock, "we can revive the
captain and the doctor when we find them, but
how do we escape?"
"There are transporters," offered Renna, "but
we may be faced with the same problem we had before not enough
time to learn how to control them."
"I feel confident I can disable the
transporters," answered the Vulcan.
"Then we could escape by other means without being
followed."
"The door is wide open," said Renna,
indicating the blaze of golden lights around the
entrance to the vast cavern.
"Very well," said Spock, loading another red
vial into the Senite hypo.
"Let us search the cells closest to where you found
me."
Activity was still intense on the catwalk of
level eight, with numerous Senite doctors rushing
to and fro, keeping the waiting fugitives sedated.
A strange sort of chanting issued from below, as the
young Senites ritualistically bathed and shaved the
comatose initiates. Renna tried to ignore what
was happening down there as she followed Spock from
cell to cell.
The Vulcan had adopted a stooped posture and
slow manner of walking that made him look
ancient, but that was preferable to revealing his unshaven
chin. There was too much activity and too many
Senites on urgent missions for them to pay much
attention to the odd pair, and it wasn't long before they
found a cell where a handsome young human lay strapped
to the bed.
"Watch the door," Spock ordered.
Renna did just that as the Vulcan bent over the
sleeping figure and injected him. He left
Kirk's bindings fastened for the moment, even when the
captain began to awaken and strain against them.
"Jim," cautioned Spock, "be still. Renna and
I have come to free you, but we are in grave danger.
This is a place where fugitives are surgically
altered to become Senites. You cannot simply jump
out of bed, do you understand?"
"Yes," muttered thecaptain, ceasing his movements
and closing his eyes once more.
"Where's McCoy?"
"We have not located him yet, but we will return
when we find him. I am loosening the straps, but you
must appear unconscious or you will be sedated again.
Download


Copyright Disclaimer:
This site does not store any files on its server. We only index and link to content provided by other sites. Please contact the content providers to delete copyright contents if any and email us, we'll remove relevant links or contents immediately.