Rise of the School for Good and Evil by Soman Chainani
Author:Soman Chainani , Date: January 20, 2023 ,Views: 140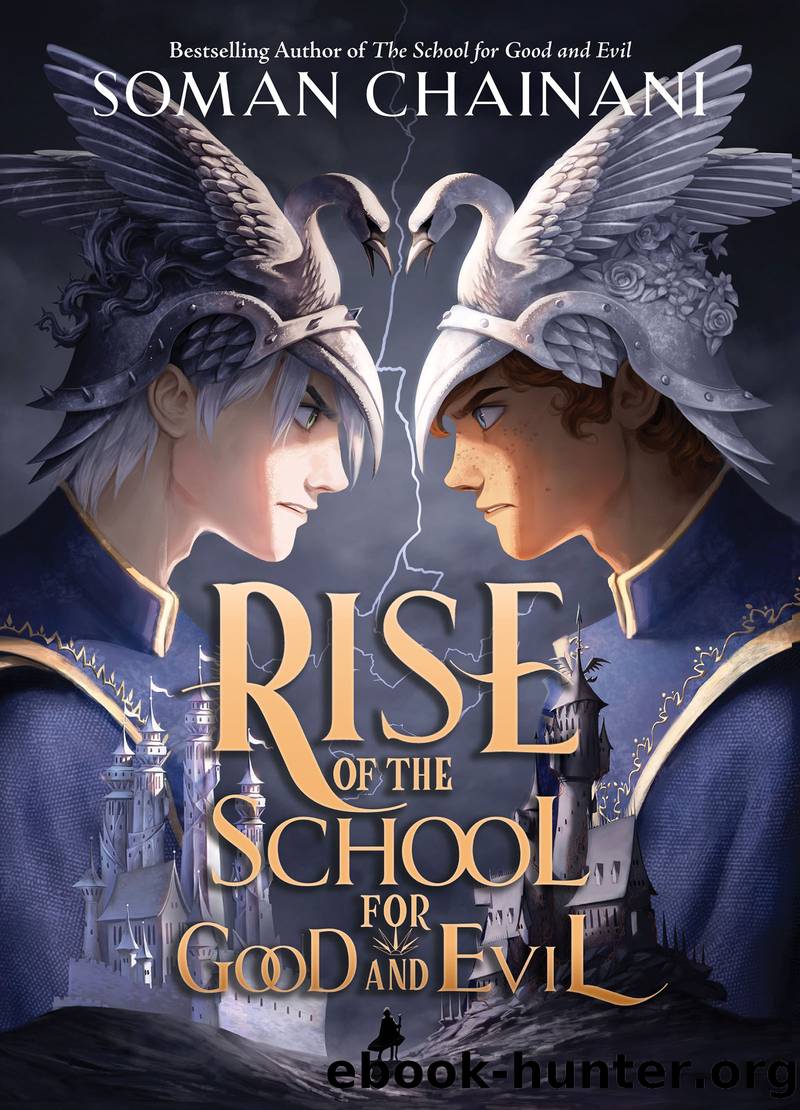 Author:Soman Chainani
Language: eng
Format: epub
Publisher: HarperCollins
Published: 2022-04-29T00:00:00+00:00



3.
Upstairs at this very moment, Rafal's promise was being kept.
A white owl slipped through the window and touched the ground, reverting back into Rhian. He took one look at the School Master's new office, wincing at the gloomy black furniture, dark crystals, and dead bat over the mantel, sharp fangs gleaming. Then he saw all the storybooks, hundreds of years of original tales, stuffed into dingy treasure chests like pirate booty, and Rhian clutched his heart. Slowly his eyes went to Vulcan's half-naked portrait on the wall. Rhian's cheeks flushed. He raised a glowing finger and revised the School Master's face into a circus clown's, then turned the tiger in his arms into a skunk.
Vandalism was a hallmark of villainy, but for once, it made Rhian feel Good.
How dare Rafal accuse him of wanting to be that ape!
Of wanting to be someone Evil!
Bah!
But clowning his enemy wasn't why he'd come.
He'd come for the Pen.
Rhian took one look at the Storian, dangling dormant over the empty desk, and snatched it into his hands—
"I debated whether to let you have it," said a voice.
Rhian turned to Marialena at the door, wrapped in a ludicrous caftan and headscarf, flanked by twenty Netherwood guards, armed with steel hand cannons.
"If it isn't Madame Medusa, come to tell my fortune," said Rhian, gripping the Pen.
"You're just mad I keep beating you at your own game," Marialena snipped. "Truth is I should be nicer to you. Maybe you're meant to be the Pen's protector. Maybe you're the one true School Master, who will bring glory to me and my family, and I should just let fate play its course. But then I remember . . ." She looked in Rhian's eyes. "I just don't like you."
The guards shot their cannons, launching thick black netting, which tangled Rhian up.
"Don't bother trying to hex your way out of it. It's batwing, which nothing can break through except another bat," Marialena said. "Vulcan's on his way up. And from what I can see, he's full of ideas of what to do with you."
She flounced out, leaving the guards there.
Rhian writhed against the net, the Storian clasped in his fingers, but the net only grew heavier, forcing him into submission. He had to get out of here before Vulcan arrived or who knows what he'd have to endure. Rhian thrashed harder, turning his back to the guards—
All of a sudden, the Storian went boiling hot in his grip. He released it in shock, the Pen dropping to the ground. He reached to grab it, but then saw it had come to life, drawing on the stone floor in soft white lines. The guards hadn't noticed, since Rhian's back was turned, but the School Master pretended to struggle, grunting and moaning, while the Storian painted a picture for him . . . a picture of Rhian and the Pen working together to get out of the very situation they were in now . . . like magical instructions . . . a map of action .
Download


Copyright Disclaimer:
This site does not store any files on its server. We only index and link to content provided by other sites. Please contact the content providers to delete copyright contents if any and email us, we'll remove relevant links or contents immediately.