Postcolonial Governmentalities (Kilombo: International Relations and Colonial Questions) by Edited by Terri-Anne Teo & Elisa Wynne-Hughes
Author:Edited by Terri-Anne Teo & Elisa Wynne-Hughes [Teo, Edited by Terri-Anne & Wynne-Hughes, Elisa] , Date: November 26, 2021 ,Views: 55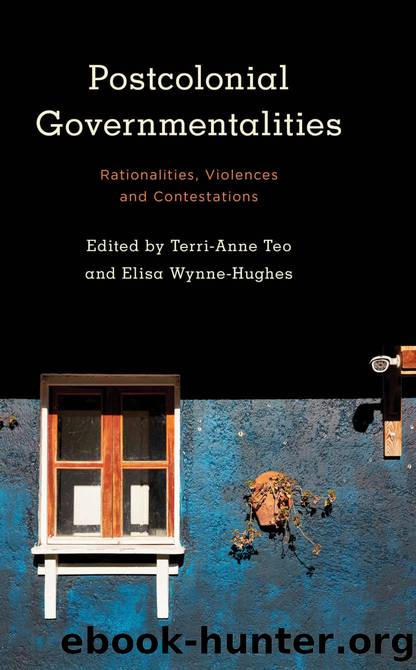 Author:Edited by Terri-Anne Teo & Elisa Wynne-Hughes [Teo, Edited by Terri-Anne & Wynne-Hughes, Elisa]
Language: eng
Format: epub
Tags: undefined
Publisher: Rowman & Littlefield Publishers
Published: 2020-02-18T08:00:00+00:00



Playful Subjectivities and the Selling of Innocence
As suggested by the presence of sailor's uniforms in children's sizes at this first souvenir shop, Maritime Greenwich presents itself as a child-friendly environment through the adoption of playful and hands-on forms of affective engagement. This is particularly prominent at the Cutty Sark. This elegant three-masted tall ship played an active role in London's tea trade with China and the wool trade with British colonies between 1869 and 1895, during which it broke records of maritime mobility, enabling Britain to dominate international trade. Since 1957, visitors have toured the clipper in a specially constructed dry dock by the Thames.[71] The ship markets itself as a space of 'family fun' and 'a totally interactive experience' (Cutty Sark brochure 2015). In this space evoking Western fantasies of adventure, romance and discovery that go back to Homer's Odyssey,[72] a classic tale that inspired discourses of imperial modernity in the nineteenth century,[73] families are invited to enact Global Traveller subjectivities. Young and old visitors converse with actors impersonating the ship's captain and crew members; they craft model ships and sailors' hats, savour lunch and tea at the Even Keel Café and touch and browse toys at the souvenir shop, alongside tea sets, tea towels, jewellery and note cards featuring the tea rituals of Alice in Wonderland. Through these playful and mundane experiences, the Cutty Sark deploys affective articulations between the innocence of childhood, freedom of travel for trade purposes and British national identity. The invocation of international popular culture (through tea drinking and Alice) to this effect is drawn straight out of theme park strategies.[74]
Paralleling Sturken's analysis of souvenir shopping at the 9/11 Museum,[75] I suggest that these playful rituals sell a form of British (and Western) innocence that constructs global trade as a benign activity and enables the economic inequalities and violence inherent to it to go undisturbed. At the Cutty Sark, the Opium Wars of 1839–1860, through which England militarily forced China to open up its ports to foreign trade, are invisible. The violent and unequal character of resource extraction that enabled global trade in the nineteenth century is also forgotten. Selling and serving tea on the ship associates this comforting and quintessentially British ritual with the ships and travels that make the tea trade possible. The introduction of playful, childlike subjectivities at the Cutty Sark affectively suggests that the mass extraction and trade of tea from China to satisfy British palates is as harmless as child's play.
The Cutty Sark.
Source: Author's photo, 2015.
Download


Copyright Disclaimer:
This site does not store any files on its server. We only index and link to content provided by other sites. Please contact the content providers to delete copyright contents if any and email us, we'll remove relevant links or contents immediately.