Popular Music and the Moving Image in Eastern Europe by Ewa Mazierska Zsolt Gyori
Author:Ewa Mazierska,Zsolt Gyori [Győri, Edited by Ewa Mazierska and Zsolt] , Date: September 24, 2021 ,Views: 154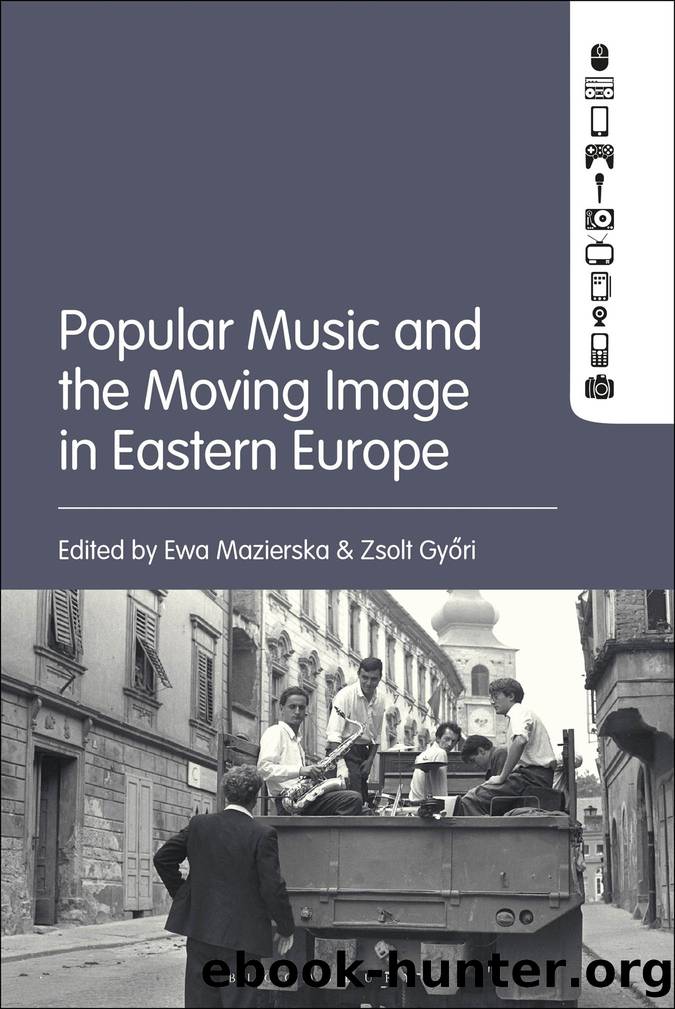 Author:Ewa Mazierska,Zsolt Gyori [Győri, Edited by Ewa Mazierska and Zsolt]
Language: eng
Format: epub
ISBN: 9781501337185
Publisher: Bloomsbury USA
Published: 2018-10-03T00:00:00+00:00



Staging dissensus
In the cinema of new sensibility the concert hall was reclaimed for performances lacking spectacular stage designs, proper sound engineering, star poses and the aspiration to entertain the audience. Gábor Klaniczay's account of Mihály Víg's stage persona (singer in bands Balaton and Trabant) draws a vivid picture of why these events should be considered as performances of self-decomposure: 'I remember the frequent problems with the gear; microphones going mute, guitar strings being ripped, and songs coming to a sudden end, then being restarted … In the ensuing chaos Mihály Víg still remained in control. There was certainly some intent and honesty in the manner messy performance choreographies and amateurish musical skills were pressed upon the audience with Machiavellian disorganization' (Klaniczay 2003, 377). Instead of well-rehearsed performances, these low-fi acts described by Klaniczay declined to recognize the stage as a privileged place and thus disregarded established structures of the sensible – in this case the theatrics of official popular music. Being consistent with marginal individuality was more important than to gain stardom and receive devotion, especially in view of the fact that a key role of popular culture was, as Peternák asserts, 'to repress the essential information by means of information overload' (Peternák 2014, 72). More than a sign of amateurism, badly orchestrated concerts, the regular use of improvized set lists and imperfections, were critical gestures targeting state-supported professional musicians.
The names of relevant bands already suggest how the stage as a symbol of the public sphere was seized by attitudes incompatible with respectable entertainment. These included satire in the case of Trabant and Balaton (brand names within Eastern Europe, but also allegories of the Soviet bloc), grotesque demonstrated by Galloping Coroners, political sarcasm associated with Central Committee (later renamed as Albert Einstein Committee), pathological metaphors exemplified by Neurotic, and ambiguity epitomized by Europe Publishing House or Europe for Rent. Depending on their temperament, each band would subvert the 'politics of the stage' and no longer inhabit it as 'inlaws', as performers who accept the norms of popular entertainment but as 'outlaws' who pursue the 'transgressive politics of the stage' while questioning consensus over the proper use of the public sphere.
The subversive use of stage in music related scenes of the films, put into the spotlight the irreparable fracture between established and alternative forms of expression, thus 'raising delicate issues regarding the configurations of the public sphere' (Pápai 2014, 151), and, by the same token, the distribution of the sensible. Apart from featuring musicians and songs unknown by the average viewer, filmmakers took every opportunity to clarify their dissensual position. A few minutes into András Szirtes' film The History of the Pronuma Pack, a person appears and, looking directly into the camera, says how much he wished there were more idiots among filmmakers and audiences, since it is much easier to make and receive films if one does not believe in coherence. Later, he advises spectators to leave the cinema of nonsense, yet after long seconds of silence he gladly welcomes those who stayed.
Download


Copyright Disclaimer:
This site does not store any files on its server. We only index and link to content provided by other sites. Please contact the content providers to delete copyright contents if any and email us, we'll remove relevant links or contents immediately.