Photo Op: 52 Weekly Ideas for Creative Image-Making by Desconhecido
Author:Desconhecido , Date: July 1, 2020 ,Views: 15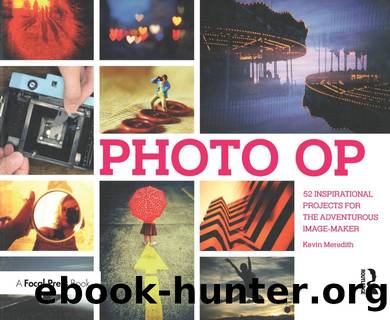 Author:Desconhecido
Language: eng
Format: azw3
ISBN: 9781136089893
Publisher: Taylor and Francis
Published: 2016-06-02T23:00:00+00:00



Me at Arm's Length In this shot, you can see that cross-processing is far more flattering with the more even light of an overcast day than with direct light, as in the image above.
Munich Carrots Brightly colored things can really pop out from the background with the effect of cross-processing.
Beachcombing Cross-processing has really helped give this image a striking sky. Without it. the sky would have been a dull, flat gray.
The golden hour refers to the first and the last hour of light in the day. When the sun is lower in the sky, light coming from it has to travel through more of the atmosphere. This reduces its intensity, which has the effect of making shadows less harsh.
Just because I like shooting my cross-processed film early in the morning and on overcast days, shooting in the middle of a sunny day isn't out of the question. Midday sun can be perfect for capturing silhouettes, which are particularly well suited to cross-processing because the extra contrast it gives means that any object in silhouette is virtually guaranteed to be black.
When you shoot under artificial light, your pictures might have a very distinctive color cast. This is because different types of lightbulb produce light at different color temperatures. Under these conditions, with a slide film that is going to be cross-processed, keep in mind that your images will be very red, very yellow, very green, or very blue: by pushing up the saturation through cross-processing, you are turning up the color.
Afternoon at a Festival Cross-processing can add oomph to images that might otherwise appear a little dull.
Download


Copyright Disclaimer:
This site does not store any files on its server. We only index and link to content provided by other sites. Please contact the content providers to delete copyright contents if any and email us, we'll remove relevant links or contents immediately.