PEN America Issue 3: Tribes (PEN America: A Journal for Writers and Readers) by Tony Kushner
Author:Tony Kushner [Kushner, Tony] , Date: May 8, 2021 ,Views: 33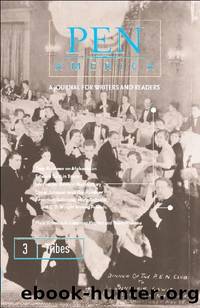 Author:Tony Kushner [Kushner, Tony]
Language: eng
Format: epub
Publisher: PEN American Center
Published: 2002-05-02T00:00:00+00:00



TWO ESSAYS
John D'Agata
LIVING HISTORY HALL OF FAME, II
9TH MASSACHUSETTS LIGHT ARTILLERY CAMP, VERMONT
Marching through the cold, green, tent-pitched mountains of old Vermont at 6 A.M. while clumps of wind go hurling against the birch-stalk stands, go bouncing and pelting the Hogback River, flinging us both toward dawn, I have been thinking about what makes him tick, about what ticks.
Let us cross over the river, he says, and rest under the shade of the trees.
Father, lying under the bough of a dark holm-oak—clicking and clicking and nailing down the day—has come to watch me write about a war.
"The war," say sandwich boards strewn across the battlefield, "that everyone fought, all of us won, here, on this day, on hallowed ground, where brother v. brother v. father v. son … "
What is it that comes after a long civil war?
Where we are, it is summer.
There is hanging around his neck a small black camera, and it ticks.
Want to make some money off of this? my father says. You just find a few good anecdotes. Click.
And it's summer.
First time together in fifteen years.
Click.
There are rifle fires, and we hear them.
Troops advance, and we point.
Smoke from cannons curls a quick bow over the valley—but blows away, soon.
Blowing a long sigh out from under the shade of some trees.
Blowing a few hoopskirts like bells across the river.
Blowing off hats, blowing down tents.
Blowing past the rubber banner pepsi civil war event here.
Then blowing onto cars slowed down for hairpin turn.
USE HORN.
But up, over the valley, under the low-roofed pitch of Exhibit Hall A, Ican see no smoke.
See: only the flags folded, and the wagon hitched, and the two dozen coffee urns, and the old vendor selling glass she cut from the greenhouse panes of an old Victorian.
Glass, the vendor claims, which someone, long ago, after the war was done, purchased in bulk from the bankrupt Mathew Brady.
Whose six thousand negatives of soldiers who survived the war were no longer necessary, no longer "right."
They were leaded instead into windows in New England.
Then made positive again.
Then bleached clear by the weather.
Download


Copyright Disclaimer:
This site does not store any files on its server. We only index and link to content provided by other sites. Please contact the content providers to delete copyright contents if any and email us, we'll remove relevant links or contents immediately.