Of Irish Blood by Mary Pat Kelly
Author:Mary Pat Kelly [Kelly, Mary Pat] , Date: October 19, 2020 ,Views: 13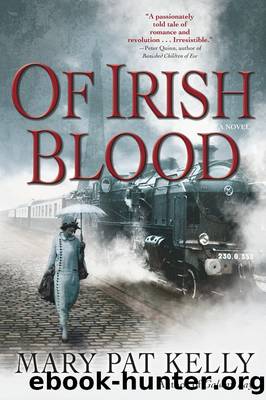 Author:Mary Pat Kelly [Kelly, Mary Pat]
Language: eng
Format: epub
ISBN: 9781429987370
Publisher: Macmillan
Published: 2015-02-08T00:00:00+00:00



15
JUNE 1914
"I have an opportunity for you," Madame Simone says to me.
June now. I'm really worried. My savings are almost gone. No clients are coming to Madame Simone and fewer tourists are on the streets of Paris. The whole world seems to be holding its breath, listening for the first heavy treads of marching armies.
"Jeanne Paquin," she says.
Madame Simone approves of Jeanne Paquin. Unlike Chanel, she is a designer in the grand manner, like Poiret and Charles Worth. I admire her fashions, too. The elaborate gowns are just simple enough to be beautiful. She and Madame Simone worked together as dressmakers at the House of Rouff as young women.
"I saw Jeanne yesterday. She wants photographs of her clothes to appear in La Gazette du Bon Ton," Madame Simone says.
I know the magazine. Very fancy, very expensive, with color illustrations. And now, photographs.
"She wants to hire a photographer. I recommended you."
"Thank you, Madame, but I'm not a good enough to … I mean, I'm only starting, I…"
"Make that your asset," she says. "Say you have a fresh eye, new ideas. Besides, all the men will be fighting soon. Not bad to have a woman replacement handy."
Fresh eye, new ideas, I repeat to myself as I walk to the House of Paquin on the rue de la Paix. Her shop is right next to the big boys'. No nonsense about Jeanne Paquin, Madame told me. And no small talk either.
"Be very direct with her," she says. "Be American."
That achingly blue sky blesses Paris only in early summer. Like Chicago's short sweet season before the heat and humidity of July and August muffle the city. No Lake Michigan here, of course, so no cool breezes. Stop, Nora. I must not let myself dream about a city that I'll never see again. What did Gertrude Stein say? "America is my country but Paris is my hometown." Me too, Gertrude.
"Both she and Alice have gone to Spain, packed away their pictures," Madame Simone said. "They think the Boche will not bother Spain." So much for defending the old hometown. But then, lots of French people have left Paris, beginning the long vacance early enough to avoid the Germans. Gabrielle Chanel is waiting for the vacationers in Biarritz. I suppose even during a war the rich will still want new clothes.
I follow a maid up a stairway past the hushed rooms where clients view Madame Paquin's creations. Polished marble floors here, Oriental carpets, and on the walls, enlarged illustrations of Madame Paquin's designs. Farther up the staircase, elegance turns utilitarian. Women bend over sewing machines, their feet ride the treadles, marching in place. Madame's office is on the top floor. A skylight lets in that blue sky. Even here, in the outer waiting room, I can see the yellow-green tops of chestnut trees.
I don't wait long. Madame Paquin has strong features. Her dark hair's dressed in elaborate curls. She sits at a desk that might have come from Versailles, wearing a dove gray jacket with tucks along a bodice that even Madame Simone couldn't copy.
Download


Copyright Disclaimer:
This site does not store any files on its server. We only index and link to content provided by other sites. Please contact the content providers to delete copyright contents if any and email us, we'll remove relevant links or contents immediately.