Nolo's Encyclopedia of Everyday Law: Answers to Your Most Frequently Asked Legal Questions by Shae Irving; Nolo (Editor)
Author:Shae Irving; Nolo (Editor) , Date: June 11, 2015 ,Views: 742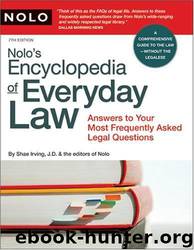 Author:Shae Irving; Nolo (Editor)
Language: eng
Format: mobi
Tags: Reference, Miscellanea, General, United States, Practical Guides, Law, Popular works, Dictionaries & Terminology, Law - United States
ISBN: 9781413305609
Publisher: NOLO
Published: 2008-01-15T07:23:47.400000+00:00



Insuring Your Car
Certainly those so inclined can have lots of fun imagining possible needs for insurance.
-HAYDEN CURRY
Almost every state requires every registered vehicle or licensed driver to have some vehicle liability insurance. And all states have financial responsibility laws, which require drivers to either carry insurance that will pay certain minimum amounts or have sufficient assets to pay any claims resulting from an accident. To find out your state's requirements, check out the Insurance Information Institute's website, at www.iii.org.
Even where it's not required by law, most drivers have some liability coverage. Before you buy auto insurance, you must decide how much coverage you need and what types of coverage are appropriate for you. And, of course, you'll want to find ways to cut your insurance costs.
Who is usually covered under an auto insurance liability policy?
An auto insurance liability policy usually covers the following people no matter what car they are driving:
• Named insured-the person or people named in the policy.
• Spouse-a spouse not named in the policy, unless he or she does not live with the named insured.
• Other relative-anyone living in the household with the named insured who is related by blood, marriage, or adoption, usually including a legal ward or foster child.
Auto insurance liability policies also cover anyone driving the insured vehicle with permission. Someone who steals the car is not covered.
Which vehicles are normally covered under an auto insurance liability policy?
• Named vehicles-an accident in a nonnamed vehicle is covered only if a named insured (see above) was driving.
• Added vehicles-any vehicle that the named insured uses as a replacement for the original named vehicle, and any additional vehicle the named insured acquires during the policy period (you may be required to notify the company of the new or different vehicle within 30 days after you acquire it).
• Temporary vehicles-any vehicle, including a rental vehicle, that substitutes for an insured vehicle that is out of use because it needs repair or service, or has been destroyed.
What kinds of damage are covered under an auto insurance liability policy?
Liability insurance covers money owed when a driver is at fault for hurting another person or damaging another car. Coverage includes medical costs for diagnosis and treatment of injuries, property damage, loss of use of damaged property, expenses incurred (such as the cost of renting a replacement vehicle), lost income, and costs of defending a lawsuit.
In addition, an injured person is entitled to a certain amount of "general damages," also referred to as pain and suffering.
What is collision coverage?
Collision coverage pays for property damage to your vehicle resulting from a collision with another car or object or from flipping over.
What is comprehensive coverage?
Comprehensive coverage pays for property damage to your vehicle resulting from anything other than a collision, such as a theft or a break-in.
What is uninsured motorist coverage?
If you have an accident with an uninsured vehicle or hit-and-run driver, the place to turn for compensation for your injuries is the uninsured motorist (UM) coverage of your own vehicle insurance policy. Normally, UM covers only bodily injury and not property damage to your vehicle.
Download


Copyright Disclaimer:
This site does not store any files on its server. We only index and link to content provided by other sites. Please contact the content providers to delete copyright contents if any and email us, we'll remove relevant links or contents immediately.