Nightmare in Holmes County by Patrick Meechan
Author:Patrick Meechan [Meechan, Patrick] , Date: April 8, 2021 ,Views: 23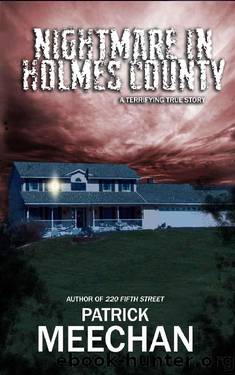 Author:Patrick Meechan [Meechan, Patrick]
Language: eng
Format: epub
Publisher: Beyond The Fray Publishing
Published: 2021-01-17T20:00:00+00:00



Chapter Twenty-Three
Adding Insult to Injury
As I prepared for the Christmas holidays, it was unbelievably difficult to muster hope that my situation would get any better. As if my other problems weren't enough, I now had painful injuries to cope with, but because I had house payments to make, I kept working regardless. On December 29, when I returned home from work around 10:40 p.m., I went right to my bedroom and checked my answering machine. What I heard was beyond what I could believe. Although I hadn't spoken to Abe for several years, I'd received a message from him approximately fifteen minutes before I arrived home, and what he had to say was quite disturbing.
"Hello, Pat. This is Abe. I want you to come talk to me. My father wasn't murdered like yours was, but I was raped when I was young. It was awful. I was terribly raped."
Why in the world would Abe call me and tell me something like this when I hadn't spoken to him for years? We weren't on good terms by any means either! Was this some kind of sick game? I felt bad for him if he had been raped, but I wanted nothing to do with him because of his perverted and voyeuristic behavior!
I'd had enough. This time I was going to make sure the sheriff took me seriously! I called and reported the harassment and said I wanted a deputy to come to my house. I then got out my double-barrel shotgun and loaded it. When the female deputy finally arrived and rang the doorbell, I answered the door holding the shotgun.
"Well, now that you're here, I guess I won't be needing this," I said as I cracked open the barrel and removed the shells in front of her.
"Listen, I am sick and tired of the harassment I'm going through out here from the Amish. I want you to finally do your job!" I insisted.
I then invited the deputy inside and played the message for her. When the message was over, I explained, "This guy is a nutjob! He sneaks into people's houses and hides and watches them. He is a voyeur. I have warned him before to never come around here or else, and now he calls me out of the blue and leaves me a message like this? I want charges filed against him for harassment, and if you can get him to tell you who raped him, you need to charge them as well!"
The deputy didn't seem too keen on doing much, but she did agree to talk to Abe. After she left, I watched as she drove the cruiser to Abe's parents' house and made her way up their long drive. When she reached the top, the house then became lit up. Several minutes later the deputy left their house and called to inform me that Abe had been warned not to bother me anymore. She also noted that Abe didn't want to tell who'd raped him. I
Download


Copyright Disclaimer:
This site does not store any files on its server. We only index and link to content provided by other sites. Please contact the content providers to delete copyright contents if any and email us, we'll remove relevant links or contents immediately.