Naughtiest Girl Saves The Day by Enid Blyton & Anne Digby
Author:Enid Blyton & Anne Digby [Blyton, Enid] , Date: May 14, 2022 ,Views: 29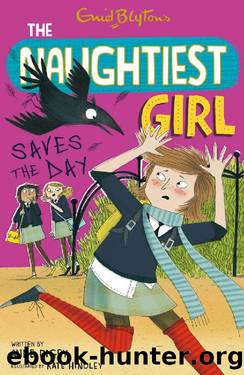 Author:Enid Blyton & Anne Digby [Blyton, Enid]
Language: eng
Format: epub
Publisher: Hachette Children's
Published: 2011-02-03T05:00:00+00:00



CHAPTER NINE
Julian makes it five
FOR ALL her bravado, Elizabeth felt scared as she tapped on the door of William and Rita's study at four o'clock. How had her button got there? It was dreadful to be under suspicion like this. Surely the head boy and girl knew her too well to believe that she would damage young plants? Surely they must know that although she might be tempted to pick the occasional ripe strawberry, she would never pull young plants out of the ground to look for fruit! It would be such a stupid and ignorant thing to do.
'Come in, Elizabeth.'
Still quaking, she walked into the cosy little study. William and Rita were waiting for her.
There was somebody else in the room with them, seated in the visitor's armchair. It was John Terry.
Elizabeth felt somehow reassured by the sight of John, as he stood up and offered the chair to her. She sat down. Everybody seemed very calm.
'John's just been telling us how you helped him net all the strawberry beds, after the plants had been vandalized,' said William approvingly. 'But you do recognize the button, then?'
Elizabeth nodded.
'We know you're one of his best little helpers,' stated Rita. 'We thought we should have a chat with John first about this button business.'
'Don't look so worried, Elizabeth,' smiled William. 'None of us thinks for one moment that you pulled up those plants.'
'Oh, thank goodness,' replied Elizabeth.
'But have you any idea how your button could have got there?' asked Rita. 'Is it possible that you lent it to somebody?'
'Definitely not,' said Elizabeth, with a firm shake of the head. 'I mean, who would want to borrow an old blazer button? Besides, I had to keep it safe because I'd promised to give it to Assistant Matron. It was just that I'd forgotten all about it, until she asked me today.' Elizabeth explained about handing in the old blazer without it. 'The missing button should have been in the little bowl on top of my chest of drawers,' she finished.
At that, Rita smiled and shook her head.
'You must be mistaken there, Elizabeth. You really must! Now try to think very carefully. You forgot to give it to Assistant Matron. Is it not possible that you forgot to put it in a safe place, too? That you were just carrying it around in a pocket?'
'Well . . .' Elizabeth frowned. She was convinced that she had put the button in the bowl. 'I don't think so. But . . .'
'But it is possible, isn't it?' chuckled William. He was looking very relieved. 'Well, I think that's the beginning and the end of your involvement. John has told us how often you help in the garden. You must have been weeding the plants one day and the button fell out of your pocket! The whole thing is a complete coincidence and has nothing to do with the fact that, at a later stage, somebody vandalized them.'
'I – I suppose so,' said Elizabeth, reluctantly. She was still frowning.
Download


Copyright Disclaimer:
This site does not store any files on its server. We only index and link to content provided by other sites. Please contact the content providers to delete copyright contents if any and email us, we'll remove relevant links or contents immediately.