Mother Knows Best by Kira Peikoff
Author:Kira Peikoff , Date: September 15, 2019 ,Views: 289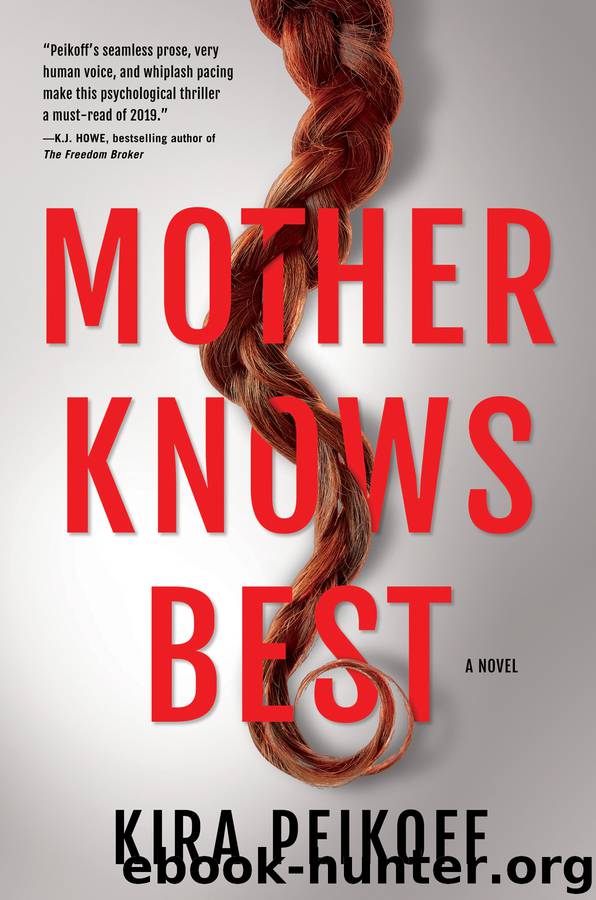 Author:Kira Peikoff
Language: eng
Format: epub
Publisher: CROOKED LANE BOOKS



PART THREE
ABBY: NOW
In exactly two hours and fifteen minutes, when the bell rings for lunch, I am finally going to meet up with her: JH0502. I don't even know her real name. I've thought a lot about those letters and numbers but can't make sense of them. We don't have any H last names on either side of my family, going back to my grandparents. And 0502 could be May 2nd—her birthday?—or just random numbers. So many questions with no answers.
Mrs. Miller is up at the board demonstrating 3-D perspective with a sketch of train tracks, but I can't concentrate. All I can think about is what the stranger might tell me, and why it's such a big deal that my mom can't know. Just the thought of my mom stresses me out. I feel like she's on the verge of some epic breakdown. I mean, rolling down a hill after a fantasy of my dead brother? It's, like, insane.
"Dude," the boy behind me hisses. "Wake up."
"Hmm?" I snap to attention to see Mrs. Miller frowning at me, holding out a fat piece of chalk. "Abigail, do you want to demonstrate how to draw a rectangular prism?"
"Sure," I agree.
Thank God for an easy class.
When the bell rings, Riley and I head toward our lockers together and I tell her about the upcoming meeting.
"Today?" Her eyes go wide. "Wow. This is gonna be huge."
"I know. She wanted to come meet me in person."
"How come?"
"To tell me everything. Whatever that means."
"And you have literally no idea who she is or what she looks like?"
"Nope."
Riley flicks her locker open and puts her books inside, then squints at me. "I don't know about this, Abs."
"It's not like I'm gonna get kidnapped or something." I snort, but don't mention the tightness in my chest. "Anyway, aren't you the one who kept telling me to contact her again?"
"I didn't think she was going to show up in real life!"
"Even better. We'll finally get the truth."
"Just be careful." She lowers her voice as other kids swarm the locker area. "Didn't your parents tell you she was some random stalker?"
I shrug. "Yeah, but maybe they're lying."
"Either way"—she slams her locker shut—"I'm keeping an eye on you. Okay?"
"How?"
"Simple. You're meeting at the drop-off area, right? I can see it from Mr. Harrison's classroom. I'll just have lunch in there."
I want to hug my kickass bestie, but I also don't want to show her how nervous I am.
"Thanks," is all I say.
"Of course. I've got your back."
* * *
When the bell rings for lunch, the other kids rush to the cafeteria to be first in line for barbecue mac 'n' cheese while I struggle upstream through the crowd toward the front doors. As I slip out, Mr. Harrison shows up behind me, walking next to Mrs. Miller.
"Well hello, Abigail," he greets me. His height, thick beard, and bushy eyebrows make him seem gruffer than he really is.
Mrs. Miller waves, looking pretty beside him in her tight skirt, black pumps, and silky shirt.
Download


Copyright Disclaimer:
This site does not store any files on its server. We only index and link to content provided by other sites. Please contact the content providers to delete copyright contents if any and email us, we'll remove relevant links or contents immediately.