Mortal by Dekker Ted && Lee Tosca
Author:Dekker, Ted && Lee, Tosca , Date: April 9, 2021 ,Views: 32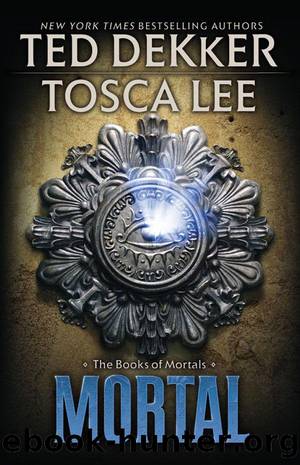 Author:Dekker, Ted && Lee, Tosca
Language: eng
Format: mobi
Tags: Thrillers, FICTION / Thrillers, Suspense, Espionage, Fiction
ISBN: 9781455523115
Publisher: FaithWords
Published: 2012-01-01T06:00:00+00:00



Jordin stood unmoving, staring at Triphon's fallen form beyond the gate.
"Jordin!" Rom was at the gate, turning the key. "They're coming!"
She twisted toward the compound behind her. "Jonathan! We have to go!"
His head snapped toward her, braids sodden, clothes stuck to the hard panes of his chest.
"Now!" she screamed.
He dropped to his seat, skidded down the slope of the roof and emerged from around the end of the building with Kaya, who was wearing his coat. Together they tore down the broken walk, past a crowd of wide-eyed Corpses, not slowing until they reached the gate, just open enough against the bulk of three bodies to let them out one at a time.
Jonathan faltered, staring at Rom as he knelt over Triphon's fallen form, frantically checking for signs of life. If Triphon had been a Corpse, they would be able to smell the scent of death. Because he was Mortal, only breath or pulse would tell the truth.
There was neither.
Dark Bloods began to pile out of the train car. Rom jerked his head up, hesitated only a moment, then sprang to his feet. There was no time to take Triphon's body as long as Jonathan was at risk.
"The horses! Go!" he cried, urgently waving them on.
Jordin grabbed Jonathan's arm and tugged. "Run!"
He scooped up Kaya and ran ahead of Jordin. They threw themselves into the saddles, Jordin behind Jonathan, Kaya and Rom on the other horse.
Shouts from behind. A knife whisked harmlessly past Jordin's head.
And then they were riding in a full gallop through the veil of a heavy downpour.
Download


Copyright Disclaimer:
This site does not store any files on its server. We only index and link to content provided by other sites. Please contact the content providers to delete copyright contents if any and email us, we'll remove relevant links or contents immediately.