Monroe, Melody Snow - Taming Tammy [Pleasure, Montana 5] (Siren Publishing Ménage Everlasting) by Melody Snow Monroe
Author:Melody Snow Monroe [Monroe, Melody Snow] , Date: January 14, 2021 ,Views: 24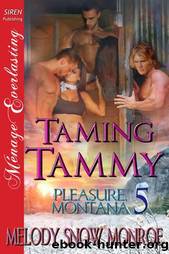 Author:Melody Snow Monroe [Monroe, Melody Snow]
Language: eng
Format: epub
Publisher: Siren-BookStrand, Inc.
Published: 0101-01-01T00:00:00+00:00



* * * *
Tank was thrilled to see how Tammy's eyes sparkled in response to this special place. He planned to take his seduction slow and easy, and he figured what better than to remove her from her element. She'd never have agreed to be with him if both of her lovers were nearby. When Jake called first thing this morning to tell him they'd had the hottest sex in history, Tank knew what he had to do.
Even now, he was surprised a jealous rage hadn't tormented him. Instead, he was glad he might have his dream come true. To his way of thinking, it was two down, one to go. Once all three of them had captured her affection, they'd find a way for all three to love her at once.
She spread the meal on the blanket then squatted on the ground to sit in the ground-level seat. Neither said anything while they ate. The beauty and serenity of the cove seemed to appeal to her on a cellular level, like it did to him. With his hectic schedule at work, and his trying to find time to study after he worked a few hours on the house, he needed this time of quiet perhaps more than Tammy did.
He took out his book, leaned back, and read the chapter on mortgages. He would much rather study the chocolate-haired beauty sitting next to him, but he needed to think of his future. Though if he had his way, he'd marry Tammy and spend his days working the ranch instead of dealing with bank business.
She spread out her jewelry supplies. He'd never seen how she made the pieces, and he was fascinated. She had bags upon bags of different colored stones and beads, along with small pieces of wood and wire. Then she pulled out something that looked like a soldering gun.
"What's that for? Are you going to lash me to a tree with wire and solder the ends together so I'll be helpless and at your mercy." You wish.
That got a laugh out of her. The sound resonated in his body. He had a new goal. To hear that sound as often as he could.
"Don't you wish?"
Yes. If Tammy ever loved on him the way he wanted to love on her, he'd sacrifice his possessions to the greater good. He thought about telling her how he wanted to claim her for his own, to love and protect her, but then she'd pack up and leave. Earning her trust again would take planning and patience, the latter being in short supply.
Since she had a deadline, he didn't ask her to explain her process. He left her to work in peace. She arranged the beads and stones one way then rearranged them in a different pattern. Her sense of style was remarkable. Soon she began the assembly process. With incredible care, she wrapped the stones in the wire and added beads for another touch of decoration.
When she seemed done, he put down his book.
Download


Copyright Disclaimer:
This site does not store any files on its server. We only index and link to content provided by other sites. Please contact the content providers to delete copyright contents if any and email us, we'll remove relevant links or contents immediately.