Monroe, Marla - Their Reluctant Submissive [Knights in Black Leather 1] (Siren Publishing Ménage Everlasting) by Marla Monroe
Author:Marla Monroe , Date: January 14, 2021 ,Views: 12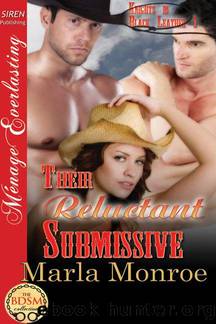 Author:Marla Monroe
Language: eng
Format: mobi
Publisher: Siren-BookStrand, Inc.
Published: 0101-01-01T00:00:00+00:00



Chapter Fourteen
Marx stood up and stretched from where he'd been sitting in the living room for the last hour. Hearing his brother's completion, he knew they would soon both be asleep again and he could climb back in the bed without disturbing them. He carried the empty beer bottle into the kitchen and threw it away. He hoped he would be able to get another few hours of sleep now.
When he'd woken up, it was from a dream where he'd pushed Kelly too far and hurt her. She'd screamed at him that he was an animal and wouldn't let him help her. There had been blood covering her back where he'd used the single tail ruthlessly on her. He would never do that in real life. Why had he dreamed that he had hurt her that way? It worried him. He wasn't naïve. He knew it was his mind's way to push his worries out into the open where he would have to deal with them.
Kelly was so perfect for them—for him. She didn't need or want a full-time D/s relationship but enjoyed the occasional serious play that they enjoyed. She fit in with their friends, and it didn't seem to bother her to be submissive for them at the club. Most of all, she enjoyed a bite of pain. He wasn't really a sadist. He enjoyed giving just enough pain to be erotic for the right sub. He loved seeing pretty pink stripes or a well-tanned ass on a woman. He would never do anything that would harm one and was careful even when they asked for more than he was planning to give. Still, he kept a piece of himself locked away just in case. He didn't want there to ever be any accidents because he lost control.
When he'd been a teenager, he'd had a horrible temper, and if he got into a fight, it always took Jackson to pull him off of the other guy before he seriously hurt him. Then in the army, he'd learned the skill of discipline. It had worked wonders on him. Those had been the best years until one night they had been out on patrol and come upon some members of the Taliban raping a young girl. He'd gone crazy. By the time they had been able to pull him off of the men responsible, it had been too late. He'd killed two men with his bare hands.
Fully expecting to be court-martialed and end up serving time, Marx had been stunned to learn that they intended to recommend him for a medal. They had deserved to die for what they had done to the young teenage girl, but he'd had no right to make that decision and carry it out with his bare hands. His loss of control hadn't been viewed that way at the time, but he never forgot it and would always keep that part of him under lock and key.
Jackson kept telling him that he wouldn't hurt anyone,
Download


Copyright Disclaimer:
This site does not store any files on its server. We only index and link to content provided by other sites. Please contact the content providers to delete copyright contents if any and email us, we'll remove relevant links or contents immediately.