Miss Frost Chills The Cheater: A Nocturne Falls Mystery (Jayne Frost Book 6) by Kristen Painter
Author:Kristen Painter [Painter, Kristen] , Date: December 3, 2019 ,Views: 183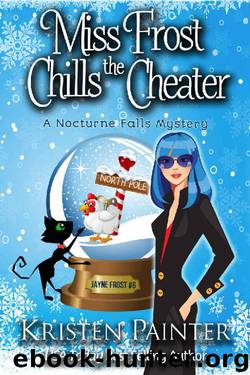 Author:Kristen Painter [Painter, Kristen]
Language: eng
Format: epub
Publisher: Sugar Skull Books
Published: 2018-11-04T18:30:00+00:00



We didn't actually go to the dining room. That's not how formal dinners worked. We all gathered in the drawing room first, then we went into dinner.
Of course, we had to be announced first. Gregory took care of that, meeting us at the door as a footman opened it. "Her Ladyship Princess Frost and our guest of honor, Mr. Sinclair Crowe."
Then we went in. My parents and Aunt Martha and Uncle Kris were there, as were a few of my other aunts and uncles and cousins, although Francis had yet to arrive. Also in attendance were the members of my father's council and their spouses. The mayors of each neighborhood and their spouses were also present. Several committee members and organizations had been invited too. With their spouses, naturally.
All in all, I tallied the guest list, family included, at around fifty-three people.
A pretty standard dinner party for palace life, but I could see that after fifteen minutes of introductions, Sin was looking weary.
I found a moment and a far corner of the drawing room and made some space for us. "Are you okay?"
He nodded, but didn't quite shake off the dazed look. "How often do you do this?"
"A formal dinner? Probably once or twice a month."
"You're really good at it. All the small talk and remembering people's names and asking about their work and families."
"I've been doing it all my life. And it's easy when you're the one who's royalty. It's not such a big deal if I mess up. Know what I mean?"
"Sure." He glanced over his shoulder. "This is going to take some practice for me, I can see that. But I'll get the hang of it."
"Practice? So you'd like to have more of these?"
He whipped around, a slight look of panic in his eyes. "I meant—" He laughed when he saw the amusement on my face. "You're a rotten person."
"I know. But you love me, so now you have to deal with the consequences."
He snorted and went back to looking over his shoulder. "Your cousin just came in. Who's the woman with him?"
I looked. "That's Umelia Pine." Her deep blue hair was in a sleek updo, showing off her diamond earrings. "Nice girl. Her father is in paper design, and her mother is a Master Bow Maker. They're decorators."
"You don't mean interior design, do you?"
"Gifts. Packages. Presents. Large or small, they wrap it all. That is literally the decorators' motto."
He laughed and shook his head. "Of course. I keep wanting to equate everything here to something I already know, but this place just isn't like any other, is it?"
"Nope.
His smile held on. "I suppose decorating is a big thing here."
"Pretty big. Gifts are kind of our bread and butter. That's what all the toys are for, after all."
"Is there a competition for that too?"
"There is. There are competitions for just about everything here. Granted, the Tinkers' Tourney is the biggest, seeing as how without toys this would all just be weird."
"Makes sense. So are he and Umelia engaged?"
"Only just.
Download


Copyright Disclaimer:
This site does not store any files on its server. We only index and link to content provided by other sites. Please contact the content providers to delete copyright contents if any and email us, we'll remove relevant links or contents immediately.