Misery by Stephen Harris Morley King
Author:Stephen Harris Morley King [King, Stephen Harris Morley] , Date: May 6, 2021 ,Views: 47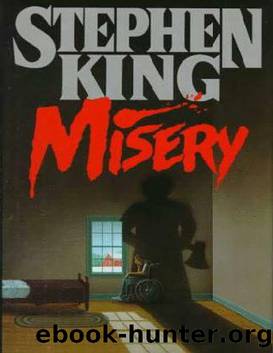 Author:Stephen Harris Morley King [King, Stephen Harris Morley]
Language: eng
Format: epub
Tags: Fiction, Horror, Horror Fiction, Fans (Persons), Novelists, Drama, English; Irish; Scottish; Welsh
ISBN: 9780451230614
Google: 2ANRSQIyYqYC
Amazon: 0451169522
Publisher: Signet
Published: 1974-01-01T06:00:00+00:00



Except we know that Annie picked up some of the poisoned bait in the cellar and hand-fed it to the cat, and if old Peter Gunn didn't want to eat it, she probably rammed it down his gullet with a stick. When he was dead she put him on the stairs and hoped it would work. Maybe she had a pretty good idea her roommate would come home tiddly. I wouldn't be a bit surprised. A dead cat, a heap of clothes. Same M.O., as Tom Twyford would say. But why, Annie? These clippings tell me everything but that. WHY?
In an act of self-preservation, part of his imagination had, over the last few weeks, actual y become Annie, and it was now this Annie-part that spoke up in its dry and uncontradictable voice. And while what it said was perfectly mad, it also made perfect sense.
I killed her because she played her radio late at night.
I killed her because of the dumb name she gave the cat.
I killed her because I got tired of seeing her soul-kissing her boyfriend on the couch, him with his hand shoved so far up her skirt he looked like he was prospecting for gold.
I killed her because I caught her cheating.
I killed her because she caught me cheating.
The specifics don't matter, do they? I killed her because she was a cockadoodie brat, and that was reason enough.
'And maybe because she was a Missus Smart Guy,' Paul whispered. He threw back his head and donkeyed another shril and frightened laugh. So this was Memory Lane, was it? Oh, what a variety of strange and poisonous flowers grew beside Annie's version of that quaint old path!
No one ever put those two freak falls together? First her father, then her roommate? Are you seriously telling me that?
Yes, he was seriously tel ing himself that. The accidents had happened almost five years apart, in two different towns. They had been reported by different papers in a populous state where people were probably always fal ing downstairs and breaking their necks.
And she was very, very clever.
Almost as clever as Satan himself, it seemed. Only now she was starting to lose it. It would be precious little consolation to him, however, if Annie were to be final y brought to bay for the murder of Paul Sheldon.
He turned the page and discovered another clipping from the Bakersfield Journal — the last, as it turned out. The headline read MISS WILKES IS
NURSING SCHOOL GRADUATE. Hometown girl makes good. May 17th, 1966. The photo was of a younger, startlingly pretty Annie Wilkes, wearing a nurse's uniform and cap, smiling into the camera. It was a graduation photograph, of course. She had graduated with honors. Only had to kill one roommate to do it, too, Paul thought, and donkeyed his shril , frightened laugh. The wind gusted around the side of the house as if in answer. Mom's picture chattered briefly on the wal .
The next cutting was from the Manchester, New Hampshire, Union-Leader.
Download


Copyright Disclaimer:
This site does not store any files on its server. We only index and link to content provided by other sites. Please contact the content providers to delete copyright contents if any and email us, we'll remove relevant links or contents immediately.