Mark of the Gods by Jules Lynn & Jules Lynn
Author:Jules Lynn & Jules Lynn [Faryn, Kris] , Date: May 26, 2023 ,Views: 36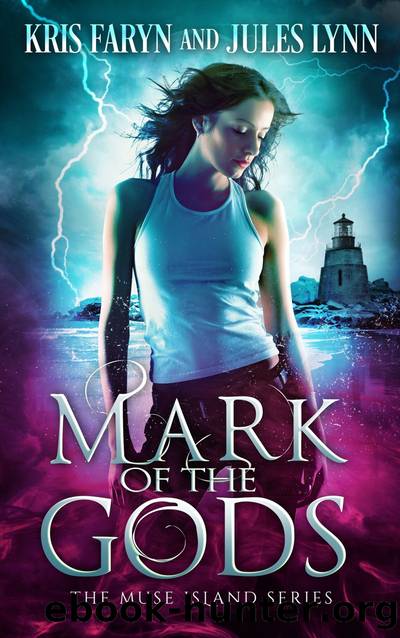 Author:Jules Lynn & Jules Lynn [Faryn, Kris]
Language: eng
Format: epub
ISBN: 978-1-73378-810-6
Publisher: Muse Island Publishing



Chapter Thirteen
Finn
Riding in the back of the Sons' Lexus SUV, I wished my supernatural power worked more like a Jedi mind trick: This is not the resort owner you're looking for. Though the brothers didn't seem nearly as interested in me as they were in my guest.
"This is a waste of time." I tapped the door lock button over and over and felt a smidge of satisfaction as the Son next to me twitched with each click click click click.
The driver answered, "We will decide what is worth your time and ours."
"Look, Piper Prince left this morning, and we haven't seen her since. She could be anywhere on the island. Might have hooked up with some devilishly handsome native and won't be seen for days." I elbowed the Son beside me. "Though I can't imagine she found a more devilishly handsome native than me."
He glared at me. I winked back, and he turned away.
My Han-Solo-like charm had no effect on the Sons. Humorless bastards.
Or rather, murderous bastards.
The Sons' stomping grounds were on the other side of the island, but it still felt like we'd arrived too soon when we reached Poseidon Point. I expected the driver to pull under the covered entrance, but he passed through a gate marked For Staff Only and bumped down a graveled road to the on-site storage facility.
My throat tightened. This couldn't be good.
We stopped behind the storage facility, and my backseat escort grabbed my upper arm and tugged. "C'mon," he grumbled.
I jerked back and lifted my hands. "Hey, hey, no need to drag me to the floor. I left a spot for you on my dance card."
Before he could process what I'd said, I jumped out of the vehicle, straightened my shirt, and loped toward the warehouse, determined to look like I was out for a seaside stroll instead of marching into who-knows-what they had in store for businessmen who didn't pony up guests at the snap of the Sons' freaky fingers.
I reached out to open the door. Even if I was here under duress, I'd make as many of my own choices as possible. On principle.
A sharp voltage zapped me and knocked me flat. I landed on my back and butt with a yell, the sting reverberating through my nerves.
The three Sons burst into laughter.
"Tartarus," I spit out. I should have expected a protection spell.
With them all still yucking it up, I stood, wiped myself off, and trailed the Sons inside.
A familiar whimper echoed in the room. Narfi
Anger fused with my bones. Why was he here? I hadn't told anyone Narfi had rifled through my guest's room. And I sure hadn't shared the security tape showing him sneaking in the resort's back door. I'd destroyed it to keep him safe.
Narfi was front and center, strapped to a chair by magical bonds. Fear and confusion had his gaze darting all around, like a wounded animal trapped in a cage. The Sons knew about my long friendship with Narfi, how it had been before they'd gotten a hold of him.
Download


Copyright Disclaimer:
This site does not store any files on its server. We only index and link to content provided by other sites. Please contact the content providers to delete copyright contents if any and email us, we'll remove relevant links or contents immediately.