Man Behind the Façade by June Francis
Author:June Francis [Francis, June] , Date: February 24, 2021 ,Views: 18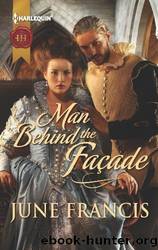 Author:June Francis [Francis, June]
Language: eng
Format: epub
Tags: Medieval
Published: 0101-01-01T00:00:00+00:00



Chapter Eight
Rebecca ushered the girls into the house and took James from Jane, who was breathing as if she had been running a race. 'I know what you're going to say,' panted the latter, to all appearances looking as if she had fallen in the River Cherwell.
'No, I'm not going to insult you, love,' said Rebecca. 'But why didn't you stay put until the storm blew itself out?'
'There was nowhere to stay!' cried Jane, collapsing on the chest by the door. 'A tree came down and smashed through the roof.'
'I don't believe it!' A flabbergasted Rebecca perched on the edge of the chest with James on her knee.
'Here, give him to me!' ordered Phillip, appearing suddenly. 'His teeth are chattering. The sooner he's in front of the fire the better.'
Rebecca handed her nephew to him with thanks before turning to Jane, who was staring at Phillip as if he was an apparition. 'Where did he come from?' she gasped.
'Greenwich. He came to tell me that the family had had news of Nicholas,' replied Rebecca, taking Jane's hands and removing her sodden gloves and chafing
her fingers. 'More to the point, we've had our own disaster here—but you mustn't worry,' she added hastily. 'Phillip is going to fetch Simon as soon as the storm abates.'
'Why—why? What's happened?' asked Jane.
'A tree's uprooted and crashed into the roof,' she said cautiously. 'Now you'll understand why I said "I don't believe it" about your friend's disaster. But you mustn't fret. Do you think you can walk to the parlour? You can lean on me.'
'Give me a few moments,' muttered Jane, gripping Rebecca's hand tightly. 'You say Master Hurst is going to fetch Simon?'
'Aye, he suggested it himself.'
'How kind of him,' said Jane, her expression lightening. 'Although I don't think we need to worry about the baby. I only carried James the last few yards. Margaret and Elizabeth ran with him most of the way. We were blown here, but the naughty boy was soaked through with splashing in puddles and I became quite cross with him.' She placed a hand on Rebecca's arm and rose to her feet. 'I think I can walk to the parlour now. What is the state of the kitchen?'
'We'll sort it out in the morning,' was Rebecca's reply.
Jane sighed heavily. 'Well, I suppose what is important is that you're unhurt and the children and I arrived home all in one piece. Fortunately my friend fed us well before the tree fell.'
* * *
Within the hour wet garments were exchanged for dry ones and the decision made that they would all spend the night in the parlour. Between them Phillip, Rebecca and the girls carried down mattresses and bedding. As Rebecca settled on a mattress in front of the fire with the two girls, she thought it doubtful that she and Phillip would have the opportunity to resume their conversation. She could not help wondering how the night would have turned out if the family had not come home. If only she had an answer to her question about Beth.
Download


Copyright Disclaimer:
This site does not store any files on its server. We only index and link to content provided by other sites. Please contact the content providers to delete copyright contents if any and email us, we'll remove relevant links or contents immediately.