Love and Other Near-Death Experiences by Mil Millington
Author:Mil Millington , Date: January 20, 2023 ,Views: 76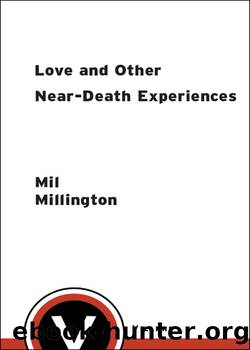 Author:Mil Millington
Language: eng
Format: epub
ISBN: 9781588365255
Publisher: Random House Publishing Group
Published: 2006-02-14T00:00:00+00:00



SEVENTEEN
"Well, what do you think?"
I glanced back and forth between Elizabeth and Zach. While sitting in front of the computer stabbing search terms into Google, I'd summarized Beth's call to them both, as best I could.
"Well," I repeated, "what do you think?"
Zach shrugged. "I don't think anything, Rob—you know that. I'm here to facilitate the implementation of your decisions, not to formulate them."
"Aww . . ." said Elizabeth, looking at him with her head gently inclined. "Such prescribed phrases tumbling from such an inchoate understanding. It's the most darling thing, isn't it, Rob? Couldn't you just eat him up?"
"Leave Zach alone," I said to her sharply. (Zach let out a little laugh, presumably at the thought that anyone would worry that Elizabeth, who looked comically tiny and fragile next to his muscular vastness, was bullying him.) "What do you think, then?"
"What do I think?" she replied, placing the flat of her hand on her chest and widening her eyes in faux surprise. "Well, I think—for what small worth you're generous enough to allow it—that it's the biggest pile of shite I've heard in a very long time indeed."
"Why?"
"Why? Why? I'm dreadfully sorry, but I can't answer that question adequately without recourse to hitting you in the face with something heavy, brass, and scourgingly elaborate. Why? Never mind its fucking intestinal convolution, the sheer amount of folding contortions needed to create such a fanciful theory from such prosaic facts. No: discard that aspect of it as you would a troublingly passable level of intelligence. No, no—just consider the source. She's obsessive, obscurantist, delusional, drunk on mysticism, and fucking Welsh."
"She seemed clearheaded and convincing enough to me," I snapped back. "And I don't think the fact that she's Wel—"
"Chk," Elizabeth cut in. "Allow me the petty prejudice for the sake of rhetoric, please. I, personally, having nothing whatsoever against the Welsh, but it would be mean-spirited of you to deny me such an obvious weapon when attacking someone, wouldn't it? You, for example, are stupid and self-pitying, but what civilized observer would censure me for mentioning that you have a big nose too?"
"I don't have a big nose."
"See? That's my point. The efficacy of an arbitrary personal attack is that it clears a path for the important issues. You have allowed 'stupid' and 'self-pitying' through unopposed, because they were riding on top of your big nose."
"I do not have a big fucking nose!"
Elizabeth didn't reply but simply lit another cigarette and leaned back on the sofa, smiling. I took a few deep breaths to steady myself and then continued, addressing both her and Zach.
"And, in fact, I—" (I stopped at this point because Elizabeth silently mouthed "Big nose" at me: I bit down on my lower lip, closed my eyes for a second, and tried to focus on not killing her. And took another deep breath or two.) "And, in fact, I've been searching on the Web, and look . . ." I flicked my fingers towards the computer screen. Zach came over, followed a couple of haughty seconds later by Elizabeth.
Download


Copyright Disclaimer:
This site does not store any files on its server. We only index and link to content provided by other sites. Please contact the content providers to delete copyright contents if any and email us, we'll remove relevant links or contents immediately.