Love Will Find You: The Knights of Berwyck, A Quest Through Time by Sherry Ewing
Author:Sherry Ewing , Date: September 17, 2020 ,Views: 4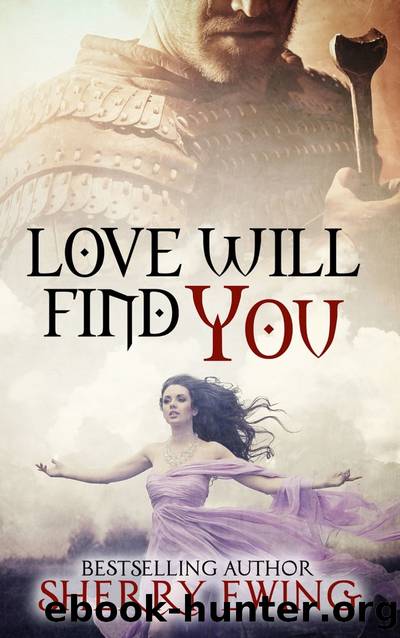 Author:Sherry Ewing
Language: eng
Format: epub
Publisher: Kingsburg Press



Part II
The Third Time's the Charm
Chapter 24
Conisbrough Castle
The Year of Our Lord's Grace, 1182
A brief moment in Time later…
Ella slowly awoke and took in her surroundings. Seeing where she was, she closed her eyes and opened them again, hoping the scene before her would be different. But nay, nothing had changed as she came to the realization that he had pushed her. Pushed her! Damn that stupid Scotsman to hell.
Her gaze fell to the man before her while he changed a cool cloth upon her forehead. Henry… those green eyes were just as she remembered them, along with the concern etched upon his features. His blond hair had once been so flattering upon him but now she favored a brown-reddish hue. She pushed Killian's image from her mind, as hard as that was. She felt as though she was betraying what they felt for one another but in truth, had they even met yet in this version of Time? She could not help but wonder if she was on his mind. If she went looking for him, would he remember her?
She had a matter of grave import to accomplished, she remembered, as she came out of her musings to stare at the man before her… lord of his castle but struggling financially to keep his estate. Funny how Henry was now staring upon her as though they had never crossed paths at Warkworth. Time had an odd way of playing with people. Ella was not certain she could go through this all over again and yet what choice did she have? How strong did God, and Killian for that matter, think she truly was?
"You were lucky you were not trampled to death, my lady," Henry said, sitting back in the chair near her bedside. "What were you doing traipsing in the forest alone?"
"I was lost," she answered in a hoarse whisper. Her throat was dry. "Water?"
"Wine," he said holding out a nearby chalice for her to take as she rose upon the bed holding the coverlet in front of her.
"How long have I been here?"
"Long enough," he replied giving her no answer at all. "I feared you might not awake after your fall."
She felt her head. Just a bruise, so she was lucky for a second time in her life. 'Twas then she realized something was missing. Pulling back the coverlet, she gasped in surprise. "Where the hell are my clothes?"
He gave her a roguish grin as though he could hear her thoughts while she believed the worst of him. "Have no fear, my lady. I had one of my servants, a woman, see to the removal of your garments so we could ensure you had no broken bones after your accident."
A moment of panic consumed her before her eyes landed on Killian's ring shining in the candlelight on a table by the bed. A heavy sigh of relief escaped her before she returned her attention to the man before her. Ella clutched the coverlet, bringing the fabric up to her chin.
Download


Copyright Disclaimer:
This site does not store any files on its server. We only index and link to content provided by other sites. Please contact the content providers to delete copyright contents if any and email us, we'll remove relevant links or contents immediately.